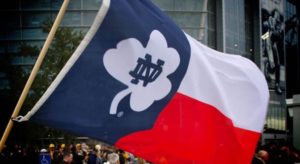 "What tho' the odds be great or small,  old Notre Dame will win over all…" 
Let's play the odds and hope that ND prevails again over the Longhorns this Sunday night at Darrell K. Royal Stadium in Austin, Texas. Notre Dame and Texas have played 11 times with the Irish 9-2 all-time versus the Longhorns. Seven of those games have been played in the state of Texas with the Longhorns posting just one win.
The very first match-up was in 1913 in Austin when Knute Rockne was a player and ND prevailed 30-7. Last year's drubbing was ND's greatest margin of victory at 38-3. In between, there have been some great games.
After a 45- year hiatus from playing in Bowl games (1924 Rose Bowl), Moose Krause persuaded Fathers Ted & Ned that ND would benefit greatly from Bowl exposure. They approved the New Year's Day 1970 Cotton Bowl to play Coach Royal's #1 and undefeated Longhorns. Texas QB James "Slick" Street delivered the Bowl win and the National Championship with a 21-17 victory over the Irish.
In the re-match the following season, ND avenged that loss with a 24-11 win.
Nothing was sweeter for those of us who attended the game, and millions of ND fans who watched the 1977 Irish take on the #1 and undefeated Longhorns of Coach Fred Akers in the Cotton Bowl (played on January 2, 1978). That team featured Heisman Trophy winner Earl Campbell, Outland Trophy winner Brad Shearer and the colorful rhyming backs of Johnny "Lam" Jones, Johnny "Ham" Jones and AJ "Jam" Jones. What resulted was one messy "spam" Jones for the Longhorns.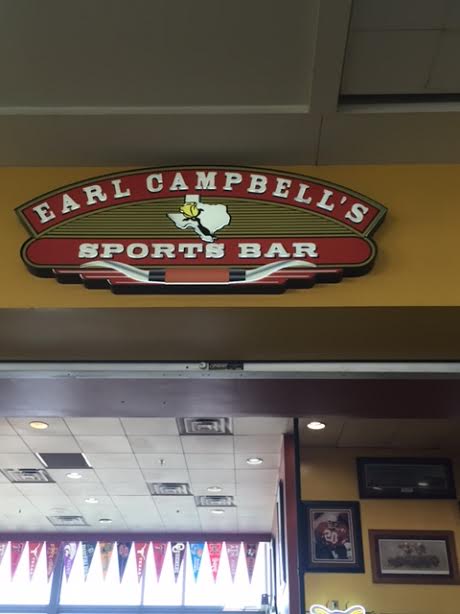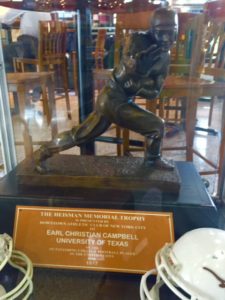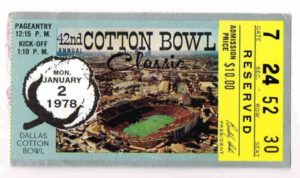 It was our privilege to pay $10 bucks to see one of the greatest ND football games ever, especially when you consider #5 ND pulverized the vaulted #1 Longhorns in every category to win the 1977 National Championship.
What a great team and season
Texas linebacker Brad Shearer was mouthing off all week. Our good pal and Dillon Hall legend Ernie Hughes quietly fumed. His neck and face would turn as red as his hair when questioned (challenged) by reporters. Ernie (#65) was the RG and he keyed mostly on Shearer. Teddy Horansky (#66) LG handled his side equally capably. Shearer was shut down completely Joe Montana did not take a sack all game. Hard to remember if his uniform was even dirty afterwards.
Ernie in action–on the field, in the office, at our tailgater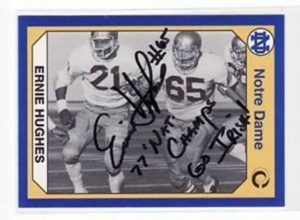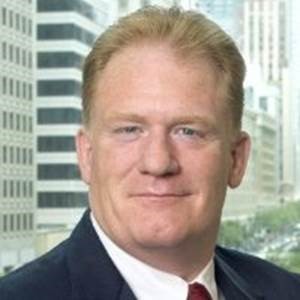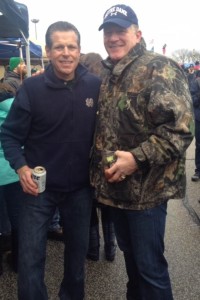 The Irish defense was stellar. It only took 2 minutes for Ross Browner (#89) to bat away a lateral and recover the fumble. Ross nearly out-rushed Earl Campbell! In fact, the ND defense pushed Texas back nearly as far as Earl ran forward. Browner has attributed his athletic greatness to God and his ND classroom success to tutorial assistance from Econ PhD. candidate Rick Behler.
Today, the very distinguished Dr. Behler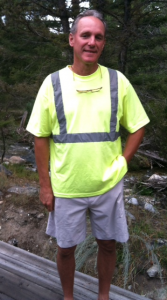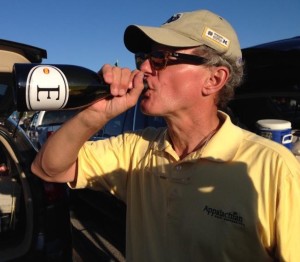 Luther Bradley was another Defensive force–intercepting or knocking down passes, making tackles, causing disruption.
A stud as a freshman on the '73 National Championship team…and still a specimen today.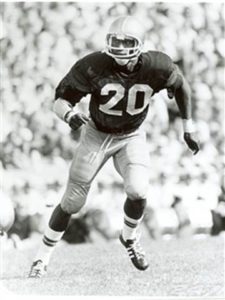 '79 classmate and Linebacker Bob Golic was menacing. Bob was everywhere that afternoon.  He humiliated Earl Campbell and his pals. The Texas running backs could not be "saved by the bell."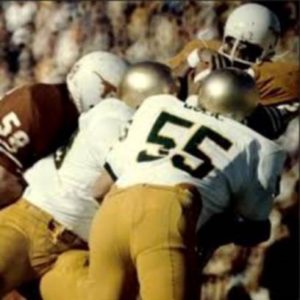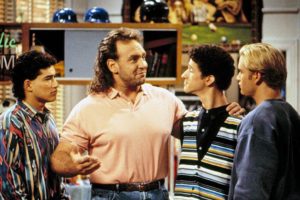 It was a Dallas Homecoming for Irish All-American center Dave Huffman (#56). Also a great pal and Dillon Hall "presence", Dave was licking his chops to play against so many of his friends and opponents from high school football in Texas. Little brother sophomore Tim "Tiny" Huffman was also on the team and would himself soon become an ND starter and great player.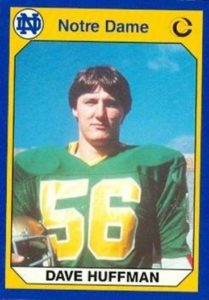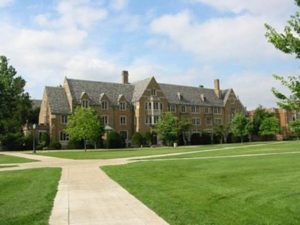 Speaking of Dave Huffman, Dillon Hall and traditions… here is a floor to ceiling "Mount" of bodies. Dave is on the 1st layer with the white/blue striped shirt. Ernie Hughes (red hair) face down. Bill Laimbeer next to him. Row 2 includes Dickie Hughes and Bruce Flowers. Plenty of other Dillon Dirtball notables if you look closely. (Abe in red shirt on Flowers shoulder)… Razz, Georgewa, Legs, Beast, P.J., Dork, Willie, Dage, Grades, Jank, Hass, Gooney F'er, Mr. Skiddy, the Mouth, Oh Jeezus Bobby…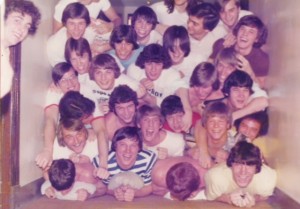 Dave led the O-line that day as its mainstay and inspirational leader. The victory was especially sweet for the Huffman boys and other ND players from Texas: Dennis Grindinger, Joe Unis, Matt Ammon, Dick Boushka, Bobby Leopold and Rob Martinovich.
Cotton Bowl victory game ball– Coach Dan Devine, Jerome Heavens, Bob Golic, Joe Montana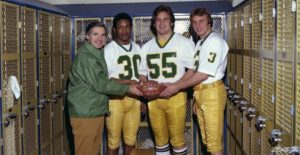 Favorite SI cover of all-time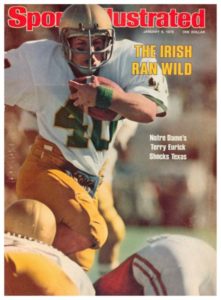 Huffman-Montana trivia. While Joe is in the NFL Hall of Fame, and Dave is eligible for the College Football Hall of Fame (on the ballot), why will Joe Montana never be in the College Football HOF as a player? Because Joe was not a 1st team All-American like Dave Huffman…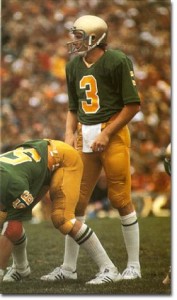 The Irish and Longhorns did not play again until 1995 in South Bend when ND shut down Ricky Williams to win 55-27. The next year in Austin, RB Autry Denson was outstanding and Jim Sanson connected on a late FG for the 27-24 ND win.
Last year, the 2015 Irish kicked-off the new season in sterling fashion with the 38-3 victory. 527 yards of offense can yield a lot of points especially as Malik Zaire was so proficient with 19/22 completions for 313 yards and 3 TD's–including a 66-yard beauty to Philadelphia's (Roman Catholic H.S.) William Fuller. He brushed away defenders all day.  CJ Prosise rushed for 98 yards after replacing the injured Tarean Folston and this was the debut of freshman RB Josh Adams, also from the Philadelphia area, who rushed for his first two college TD's.
The young stud handlers of the famous Texas mascot "Bevo" are called "The Spurs".  A second group, "The Cowboys" are in charge of "Smokey the Cannon". Prior to the game last year, they were informed that there was a prohibition at ND Stadium for cannons and live animals. Research suggests that the Navy Midshipman goat may have messed things up for future 4-legged mascots. As a result, Bevo and the cannon stayed home.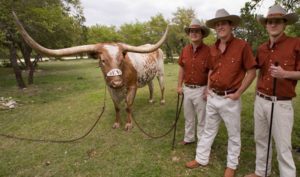 But upperclassmen Spurs and Cowboys still made the trip to South Bend. (Brown hair) Mo O'Brien (SMC '81) invited her Texas son Hugh and his pals to our tailgater. They were absolute gentlemen.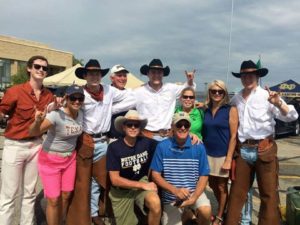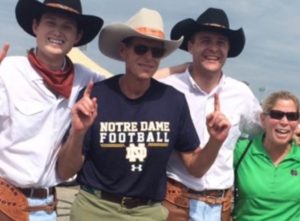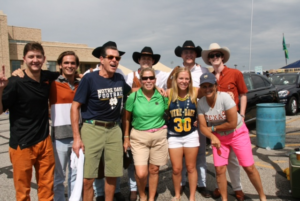 Exclusive BEVO news: Sadly BEVO XIV died mid-season last year. We were with his handlers, the Spurs, today. They informed us that Bevo XV will make his debut on Sunday night. It will be his very first game. He will weigh approximately 2,200 lbs and will be introduced to the home crowd with the Spurs.
And where did the name "BEVO" originate? After Texas A&M beat the Longhorns in 1913, they stole the Texas steer mascot and branded the 13-0 score on its side. To "cover" the disgrace, Texas handlers turned the 13-0 to "B-E-V-O". (Think about it…)
Sunday will be our first trip back to Austin since 1996. The Irish will be facing a Texas team that has gone 6-7 and 5-7 the past two seasons. Will we see Freshman QB Shane Bueche? How about a Texas defense that gave up 219 yards/game rushing last year (HINT HINT, Brian Kelly)? And after trying and cutting 3 walk-on kickers since the spring, what will the Texas kicking game look like?
So glad to be back in the Lone Star State. Whatever the odds…the Notre Dame will be in Austin to play!
GO IRISH!
See you in Austin!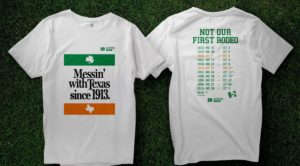 Here we come Austin…
We know that historic Austin is the State Capital, home to the University of Texas and famous for music and BBQ. Tasty Shiner Beer will be plentiful.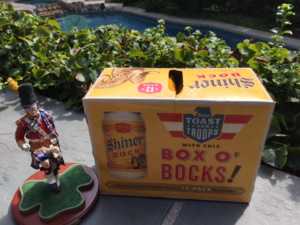 Some of us cannot drink beer like we did in college (high-end swill like Fox Deluxe, Braumeister…just $4.99/case!)
While in Austin, we may tour the Tito's Handmade Vodka plant. This is the first legal distillery in Texas. The owner is Bert Butler "Tito" Beveridge II–who's childhood nickname was "Bertito"…and shortened to "Tito".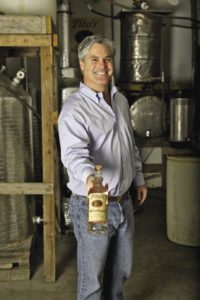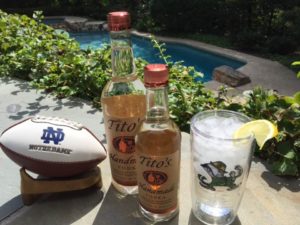 Distinctively, Tito's is distilled six times and with yellow corn instead of wheat or potatoes. For those of you flying to Texas on United Airlines, Tito's is now the exclusive vodka brand.
Former Pennsylvania Liquor Control Board Chairman, Dillon Hall alum and ND '78 was (is) our pal and Big Red roommate. Since he is friends with Tito, that makes the rest of us just once-removed from the Master Distiller himself. Cheers!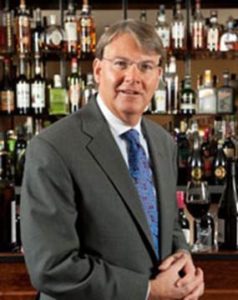 Someone who always stands when the National Anthem is played…
(Ret.) Admiral William McRaven last served as the commander of the U.S. Special Operations Command. He most notably authorized the mission to kill Bin Laden. A graduate of the University of Texas, McRaven went through Naval ROTC and not the Academy. Following his retirement in 2014, the Admiral was named Chancellor of the University of Texas System.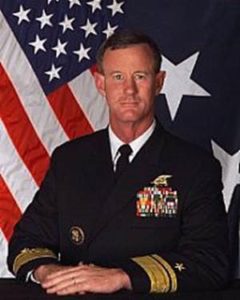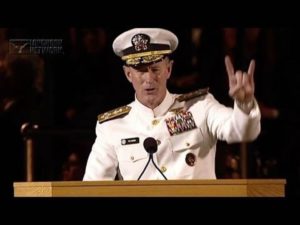 Not only will the Admiral likely be in attendance at the game Sunday night, his guests will likely be wearing Notre Dame colors…his daughter and son are recent graduates of Notre Dame. (Clearly…they could have attended Dad's alma mater…but chose ND!)
Admiral McCraven undoubtedly respects "God, Country and Notre Dame".
When you have time for some real inspiration, watch this video of Admiral McRaven's 2014 Commencement speech to the UT graduating class.  It is excellent.
http://navyseals.com/4234/university-texas-austin-2014-commencement-address-admiral-william-h-mcraven/
A true American hero and patriotic, Admiral William ("call me Bill") McRaven (on the right; with the medals)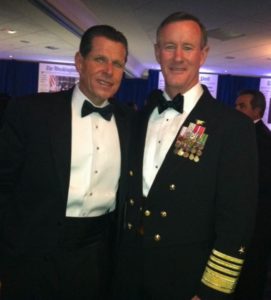 GOD COUNTRY NOTRE DAME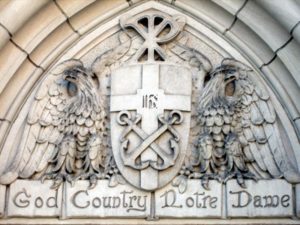 Glad to be in the town of Austin and the historic and haunted Driskill Hotel. It is legal to pack in Texas– so we will be buying tailgate supplies next.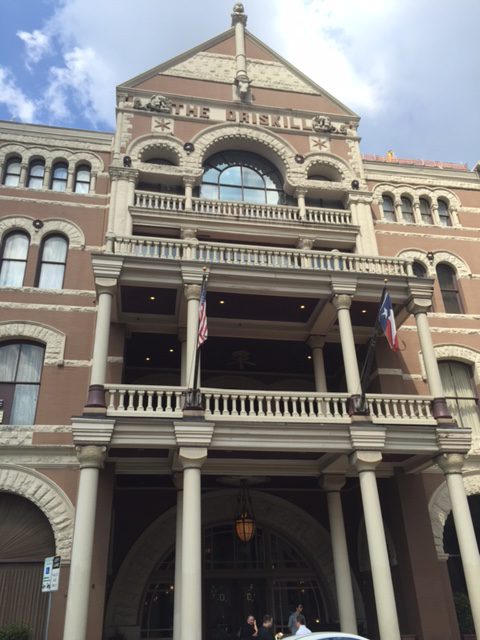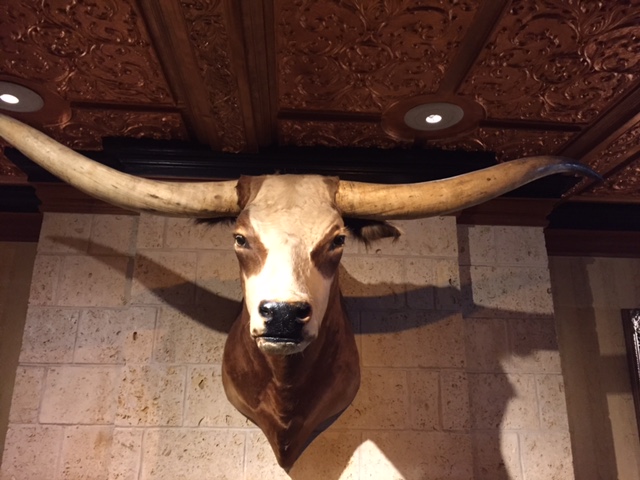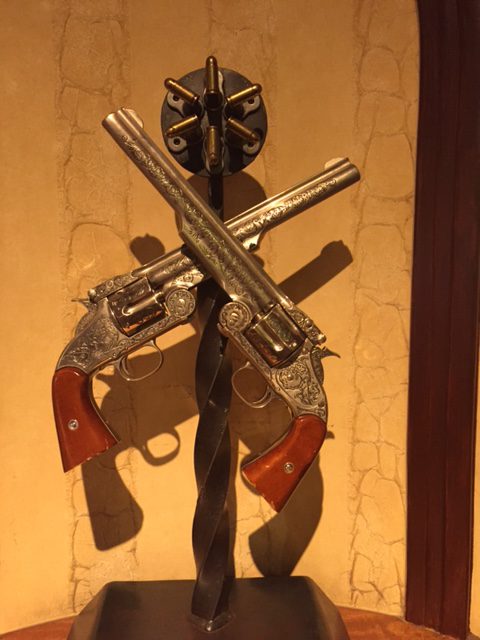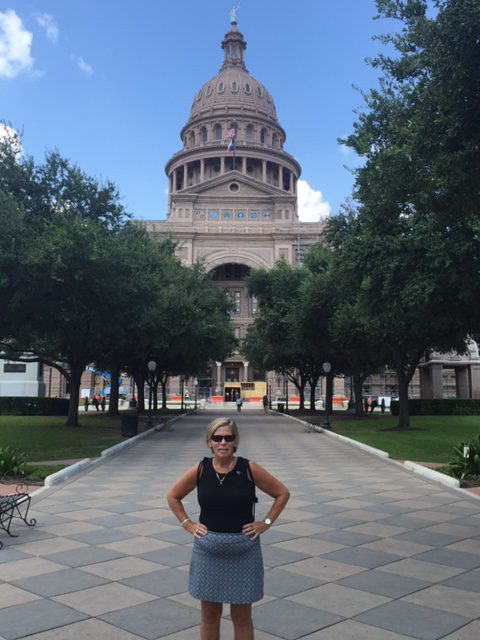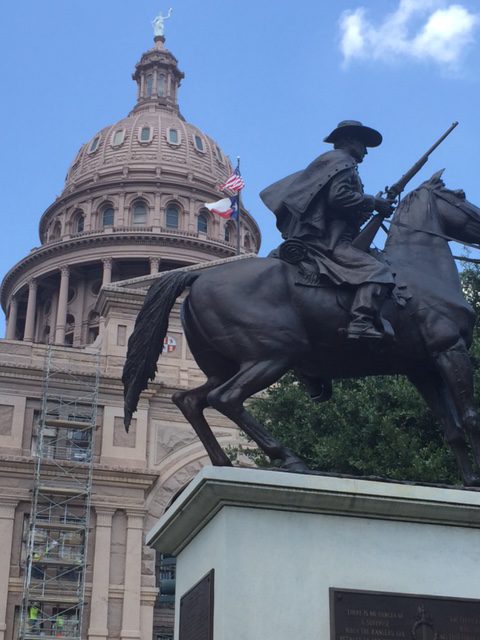 Beautiful campus, wonderful hospitality. Good times in the Lone Star State.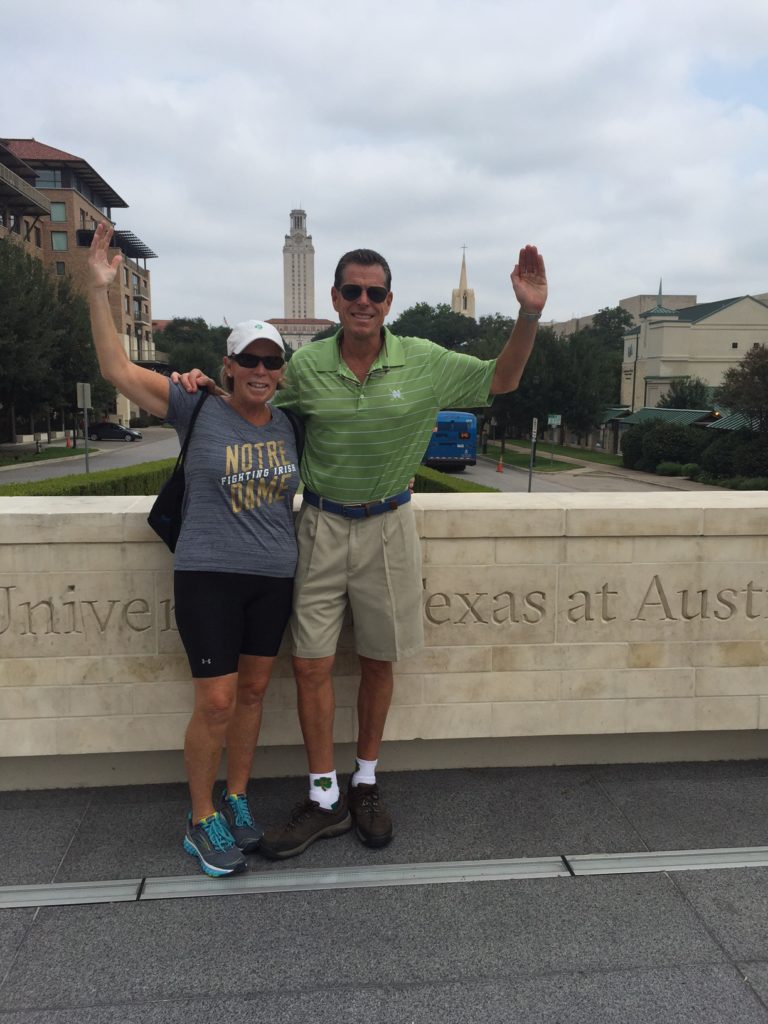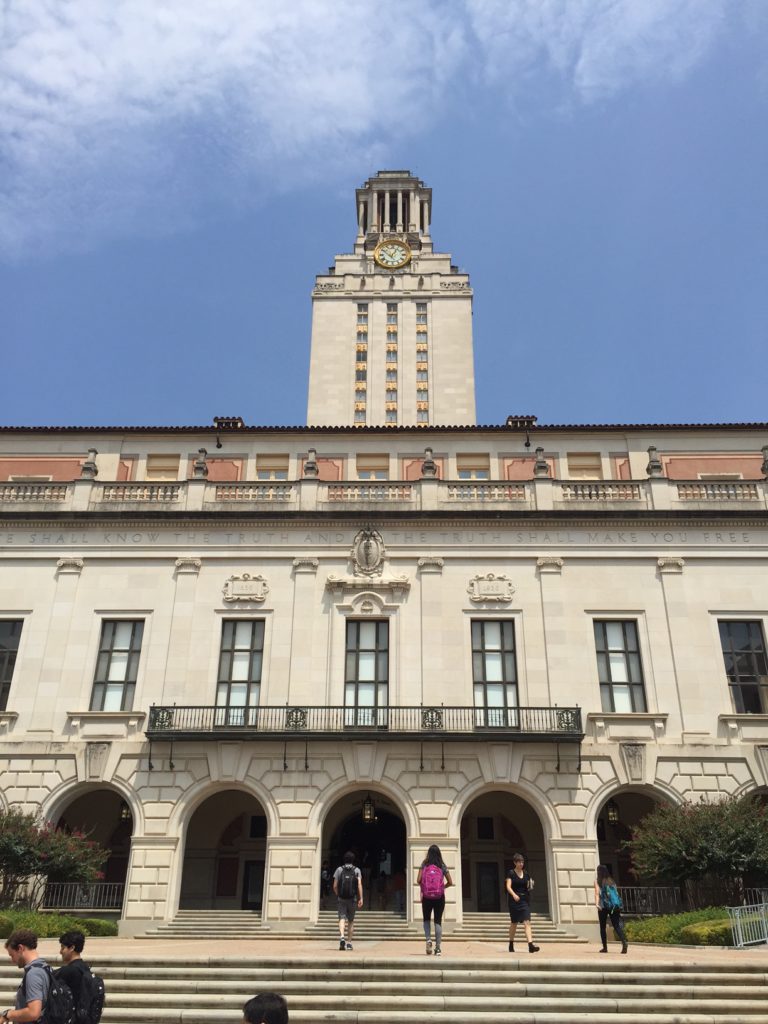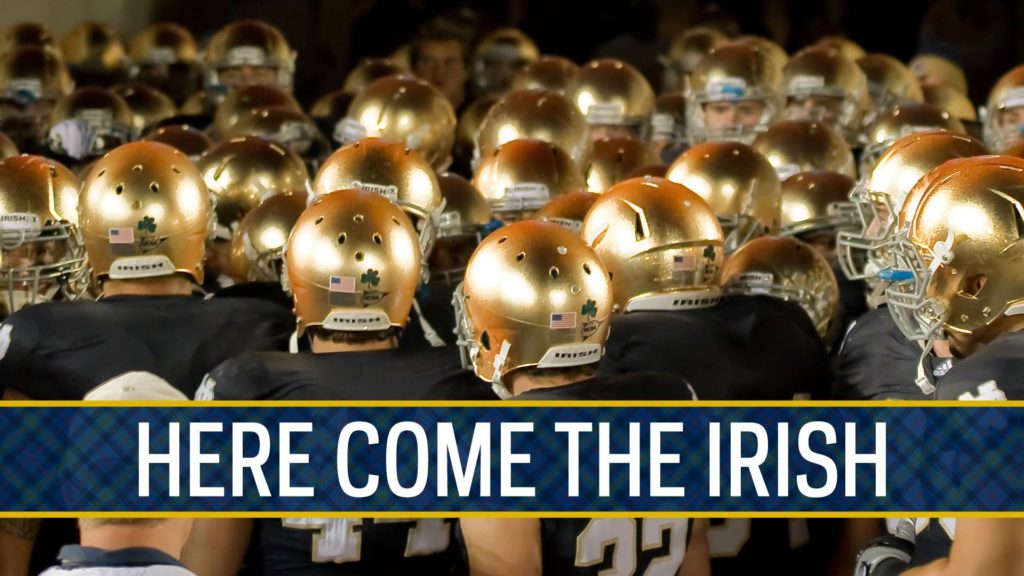 GO IRISH.
Hook those Horns!
Next, click to our next blog columnist post by contributing ND expert, John "Romo" Romanelli.