Jeff "Abe" Kohler
ND '79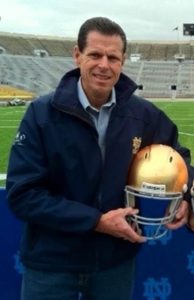 Baptized with the name "Jeff", most of my Notre Dame pals actually know me as "Abe". This was a nickname affectionately and contagiously bestowed upon me the very first week on campus in the Fall of 1975.  I was sporting a great pair of bright orange BIKE-brand coach's shorts with a white ND golf shirt. Damned if Tampa Bay Buccaneer Assistant Coach Abe Gibron wasn't also featured in Sports Illustrated wearing almost the same. And the fact that I was 252 pounds at the time enhanced the comparison.
The name stuck and so did my friends. We have had amazing camaraderie for over 35 years now. And along the way, I have picked-up so many more pals. Our ND universe seems quite diversified and colorful with loads of characters mostly from about ND 1966-1981.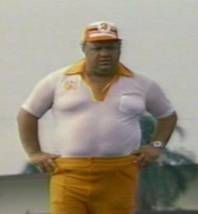 Having grown up in the Chicago suburb of Wheeling, Illinois (where a very young Styx band played often in our Wheeling H.S. field house), I always had an affinity for Notre Dame. I was fortunate to be accepted, have an incredible college experience and graduate. Rituals developed over three decades ago perpetuate. My first haircut away from home in 1975 was with the legendary Armando Femia—still cutting the hair today of ND administrators, coaches, athletes, student and alums. The best pizza in South Bend is still Rocco's with our hosts Warren and Linda.  No one can top the stories of bartender "Murf" (Tim Murphy) at the Morris Inn. And everyone should make the effort, and have the privilege, of a conversation with Father Ted Hesburgh.
Abe Gibron, circa 1975
I am on campus a lot—tailgating and attending most home football games. In the course of my visits and rituals, I have so regularly learned interesting facts and tidbits and I have met or run-into so many interesting people. For all of my family and friends who cannot be at ND with me, I began a rudimentary "blog" a couple of years ago…which was really just some e-mail messages out to friends. With technology and a web savvy daughter, I now have my own website: www.shakedownthethunder.net. And this is my inaugural season trying this new communications vehicle.
My reports are totally based on actual happenings and occurrences…subject to my interpretation and reporting. And many things are just as incredible to me as they may be to a reader. I learned from a Dillon Hall roommate that whether it is college dating or blog reporting, "Just let the game come to you."
Welcome…and GO IRISH!