After a very disappointing loss to Texas and a ho-hum win versus the outmanned Nevada Wolfpack, the 1-1 Irish geared-up for the nationally-ranked Michigan State Spartans .
The campus was sunny and  vibrant on Friday with activities everywhere. Notably, the 1966 National Championship team would be honored with ceremonies throughout the weekend. Over 70 players and coaches joined 93-year old Coach Ara Parseghian–who got his haircut at Armando's the week before.
The Greatest Living Notre Dame Coach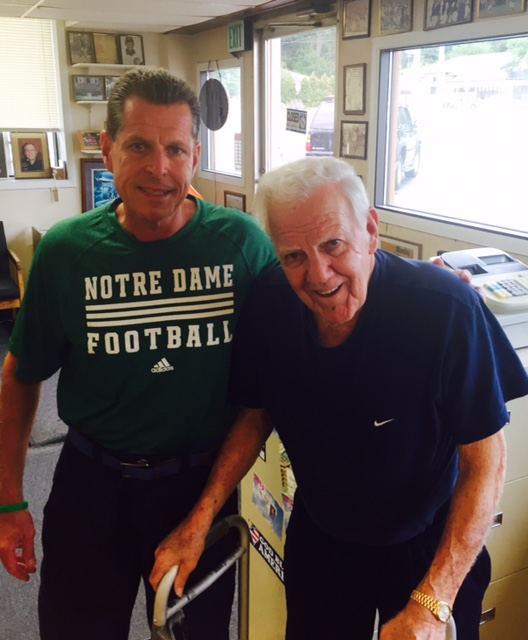 Also on campus was Team Captain Jim Lynch ('67) who is in the College and NFL Halls of Fame after an 11-year career with the K.C. Chiefs. Jim's brother Admiral Tom Lynch played at the Naval Academy at the same time and Jim shared some great stories. The Admiral and Abe are Philadelphia friends.
Jim Lynch looking plenty fit and could help the current Irish Defense!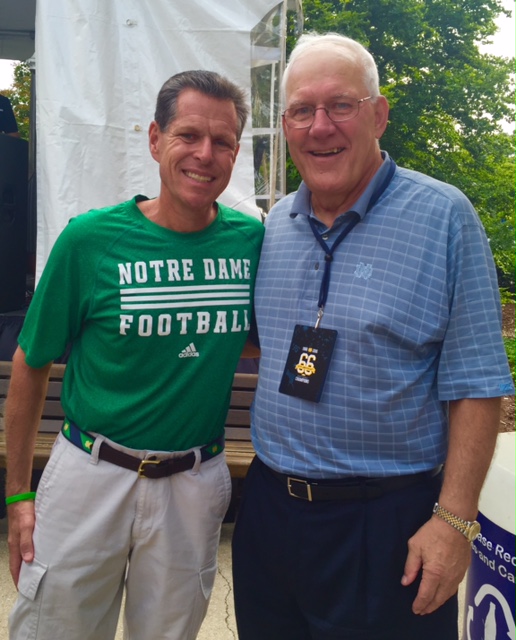 My…this is one big organ. The new Mundy Family organ has been installed in the Basilica. It is being fine-tuned and will make its formal debut in November.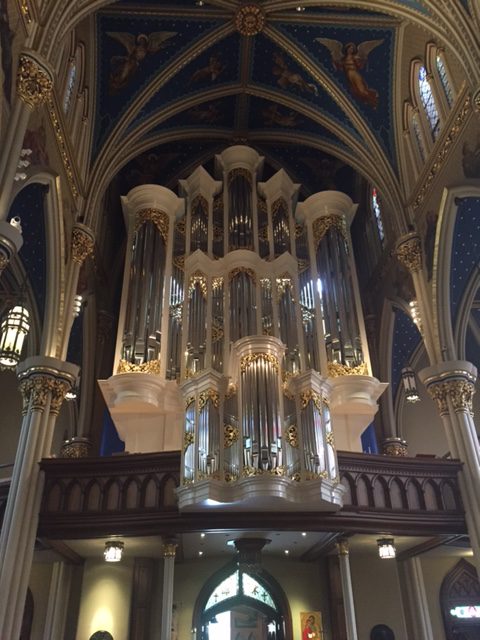 Saturday tailgating was a huge affair. We built a fort across six parking spots with five tents, dozens of tables, chairs and coolers and the grill was smoking non-stop!
Early morning tailgate set-up begins.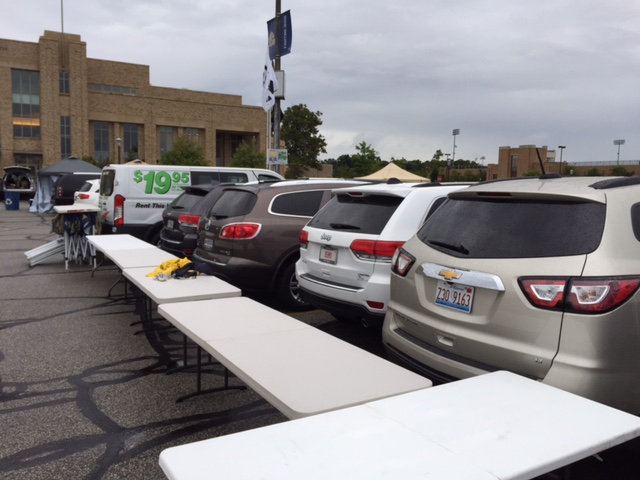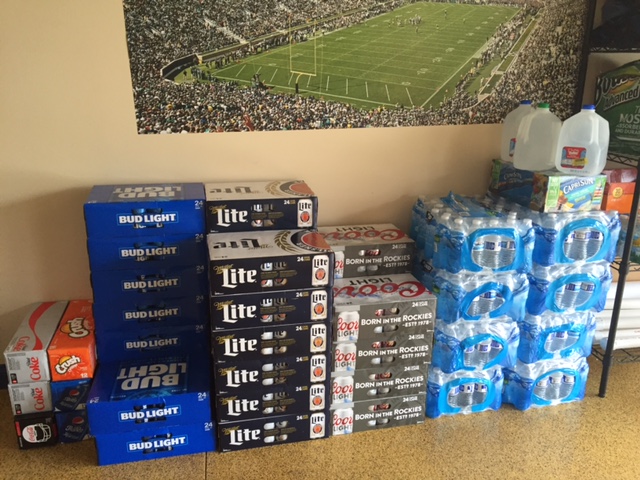 Provisions staged for transport to tailgate site. Plenty of liquid refreshments.
GROUND ZERO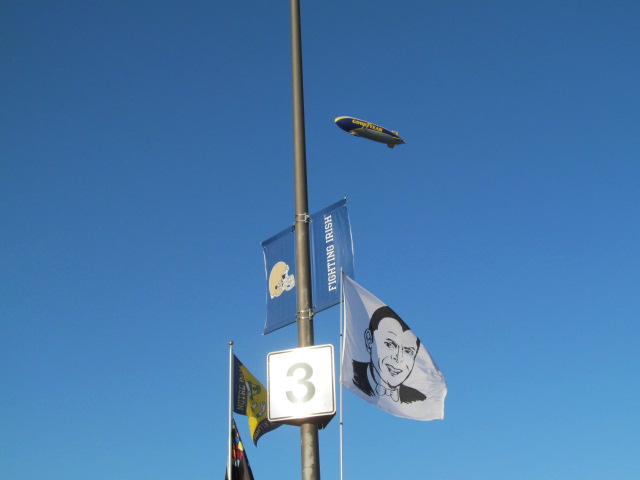 So what did Elvis say when Abe handed him a beer?
"Thank you…thank you very much…"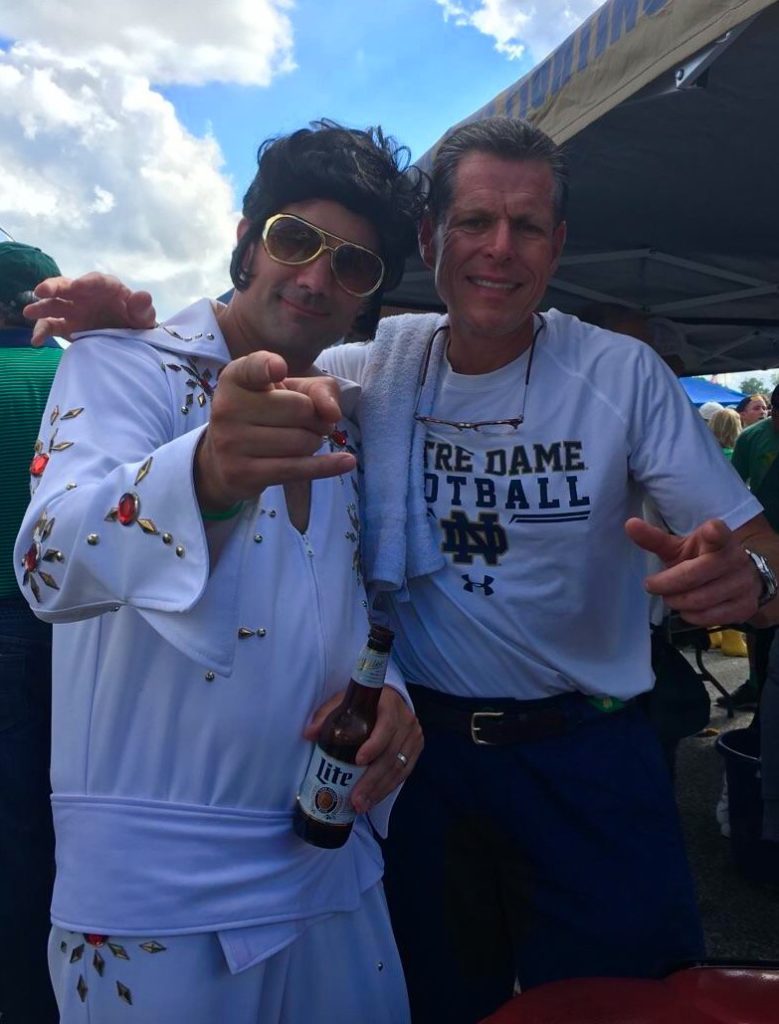 Plenty of meat products provided by "Sausage King of Chicago". We were ready with burgers, brats and hot dogs to feed the throng.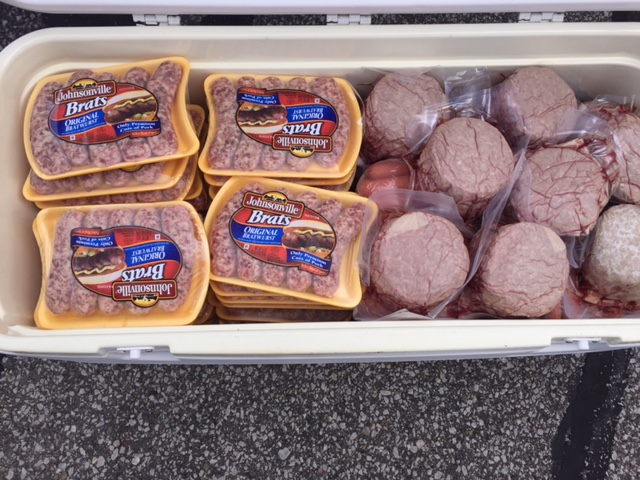 Mixologust Dr. Behler setting up his bar for Bloody Mary's and Pimm's Cup cocktails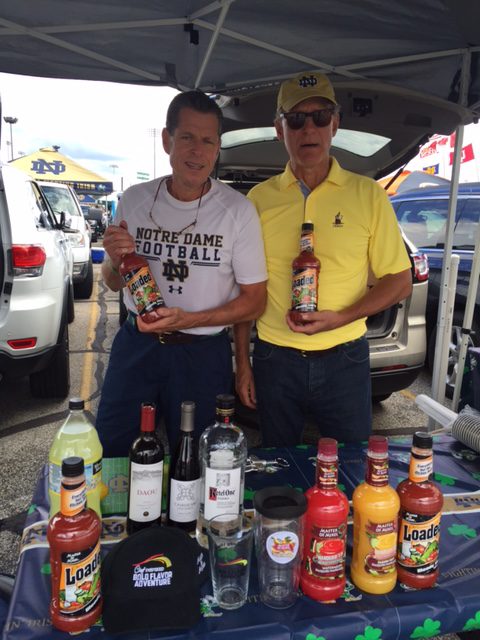 Tailgate lieutenants getting ready to man their stations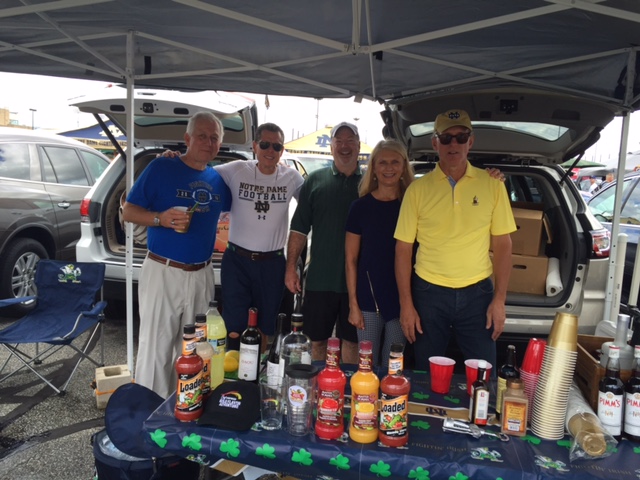 Amazing history here! Bud Gasser (MSU '49) and Walter Groathaus (ND '49) were both stars on their Spartan and Irish squads.  Bud played for Biggy Munn; Walter played for Frank Leahy.
They were on the same field and played against each other. And here they are again re-joined at our tailgater.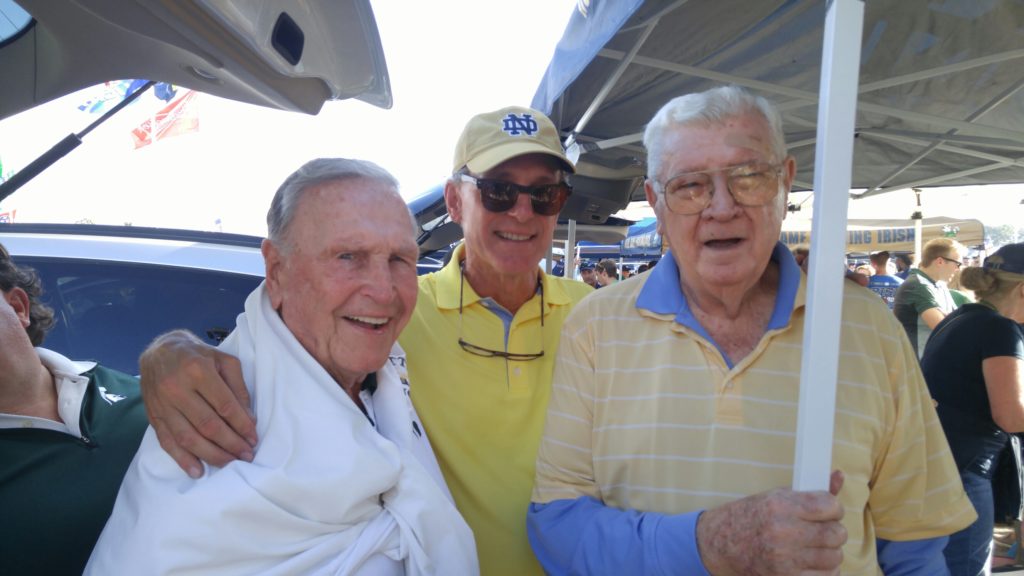 Historic Joyce Lamp Post #3.
Jimmy (multiple nicknames) Dorgan and former Dillon Hall Rector Fr. Joe Carey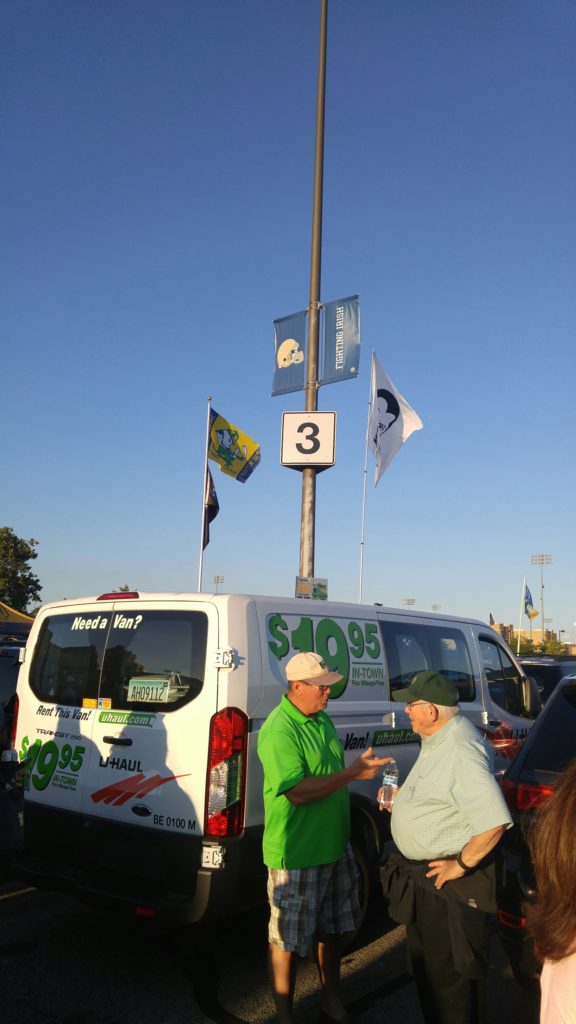 Abe-Fr. Joe-Mo
Broadway Joe married us in June 1981. Baptized three of our daughters. Performed the weddings of two of our daughters (so far). And if he lives be be 120 years old…he can say Abe's funeral Mass, too! An amazing Priest and man–Fr. Joe.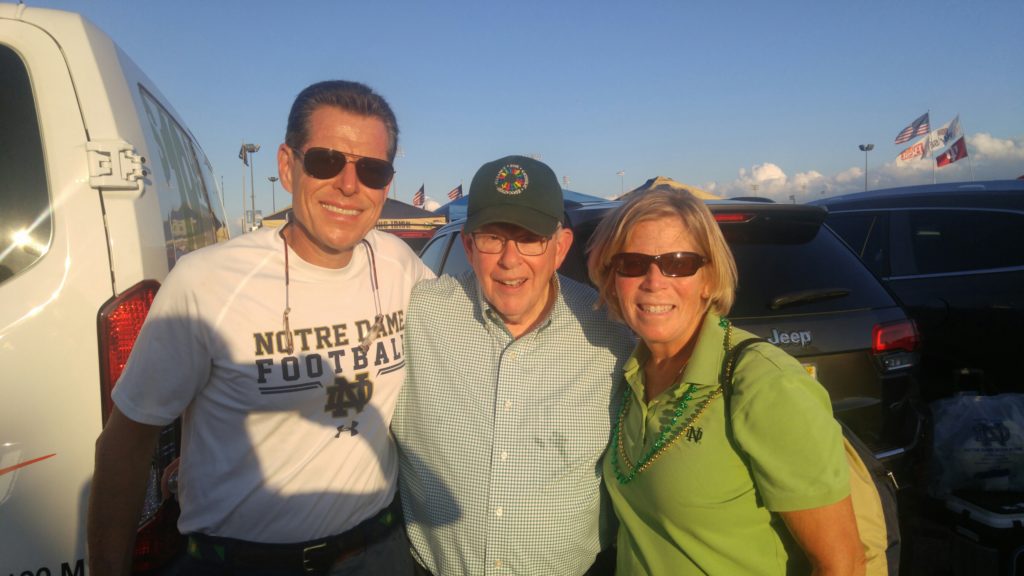 Pre-grill work. Gearing-up. Note the promenade of tents–all ours!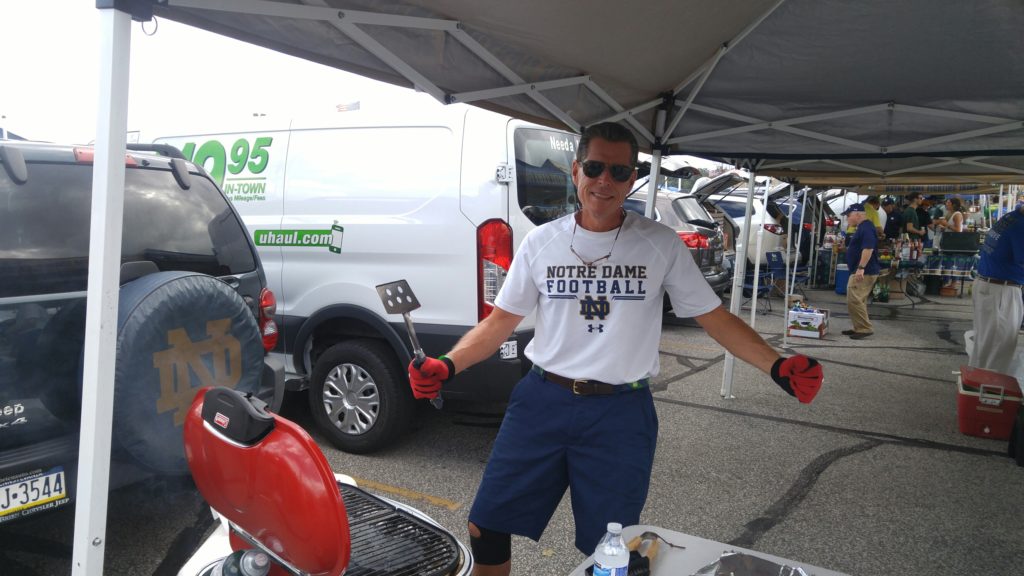 Joanie Kessler is the "Bun Lady".
Abe grills 'em; Joanie buns 'em!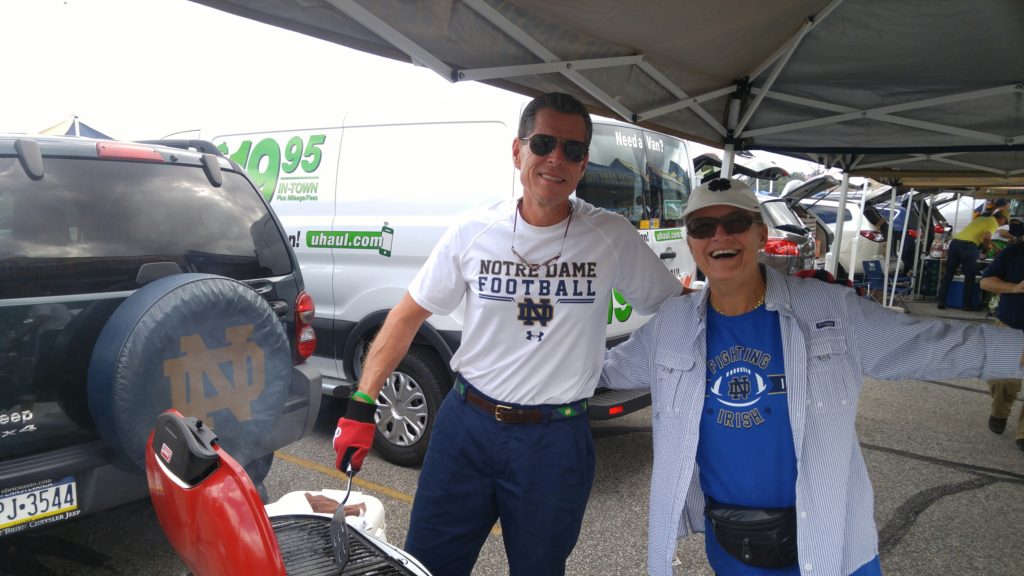 This is why we tailgate… Tom ("Dork") Van Ek had not been back to campus in 38-years. A recent Dillon e-mail chain put out an APB for him. Once he was re-located, Tom was quickly re-engaged with his Dillon brethren. He showed up to our tailgate and the response was outrageously enthusiastic for our "Prodigal Dork." The mutual excitement was profound.  There is only one Tom "Dork" Van Ek ("Want to hear my impression of Moms Mabley?!")
Boston Jack-Gar-Abe-Dork-Georgewa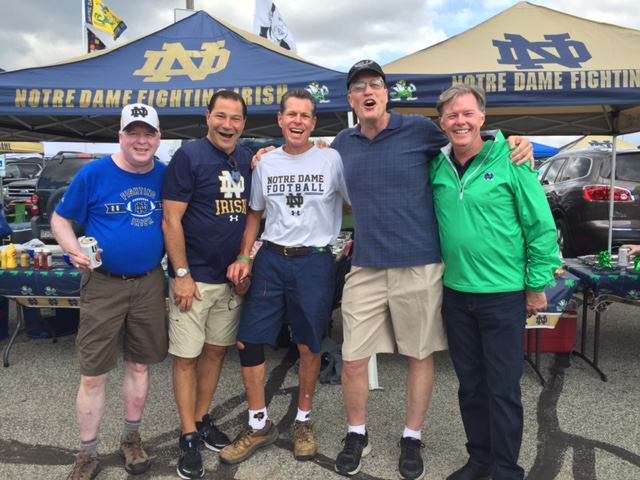 DAMN!  2 good lookin' (hetero) Dillon studs
Double BB Bill Brittan and Georgewa Scanlon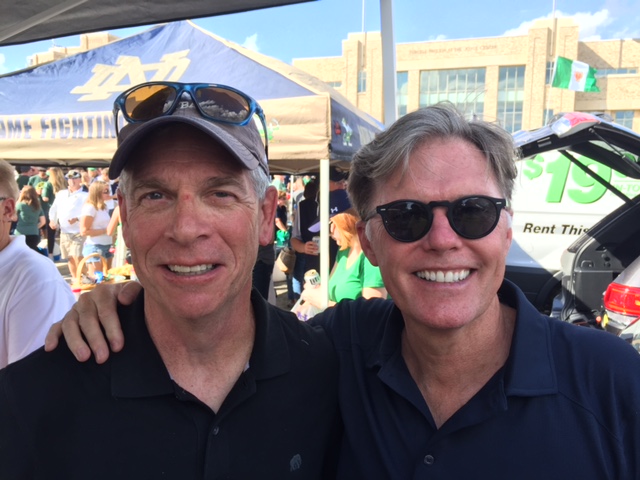 Dillon Big Red.
Jank. Scanlon. Boston. Abe. Dorgan. Philbin.
(What is than sash across Georgewa's waist and glass of Chardonnay?)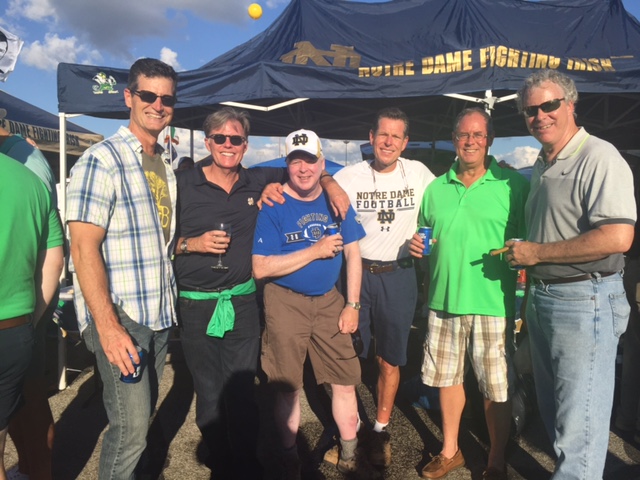 Everyone loves a good Bloody to start the day. Mini is ready!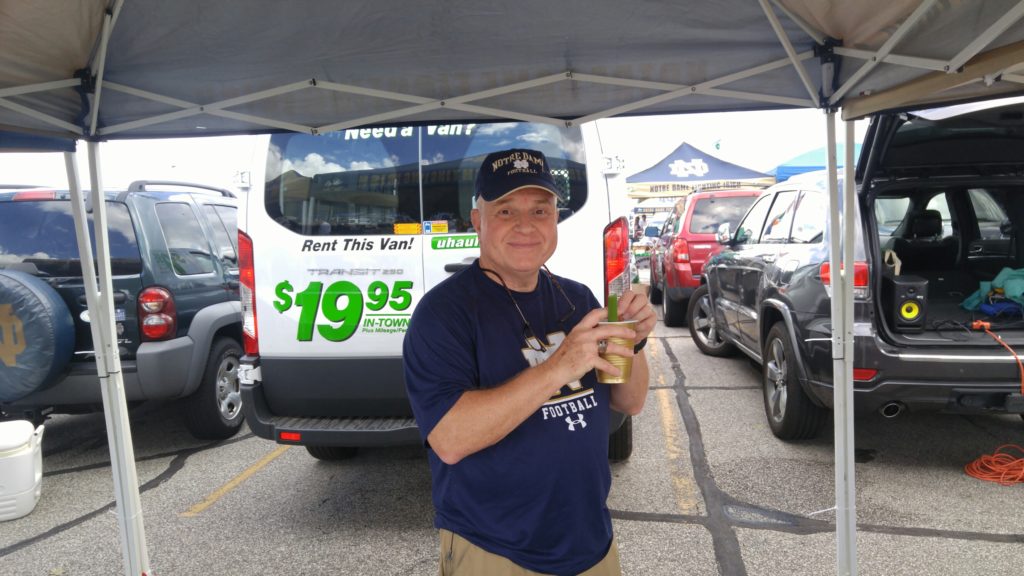 How about a vert first-time visitor to ND? Hope Bob had a good time.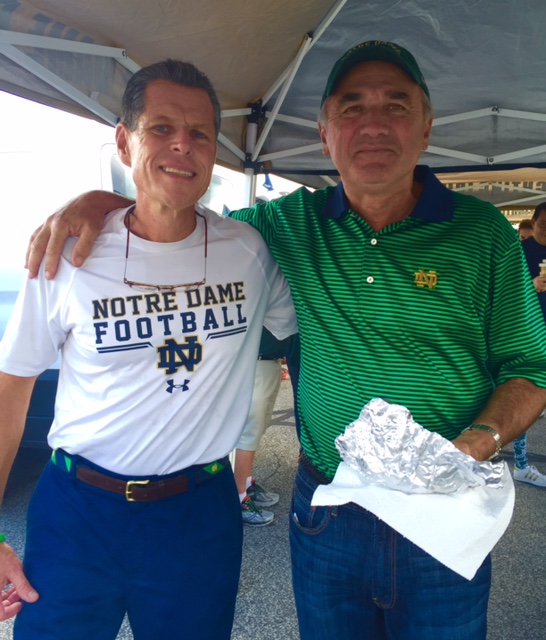 Mo & Stephanie. Fun Moms.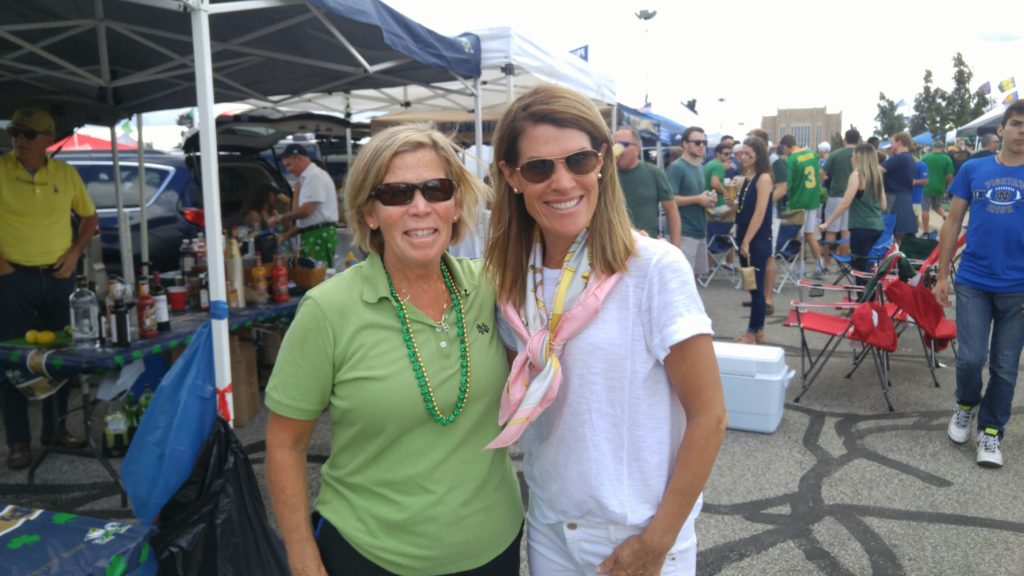 Plenty of fine wine at this tailgater. Gary and Dr. Rick approve.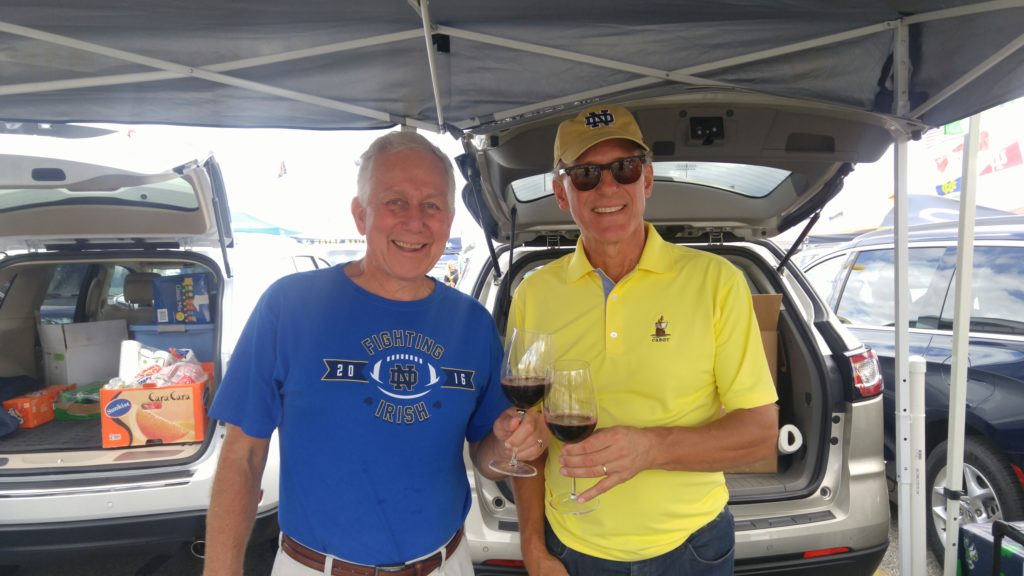 Generations of Smick Chicks. Love these girls. 
Tailgaters are always more fun when the Shukis clan is in the house!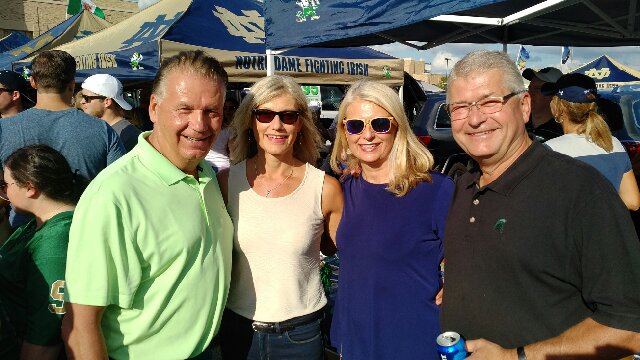 Confirmed. Walter Grothaus is a serious dude (Class of '49 !)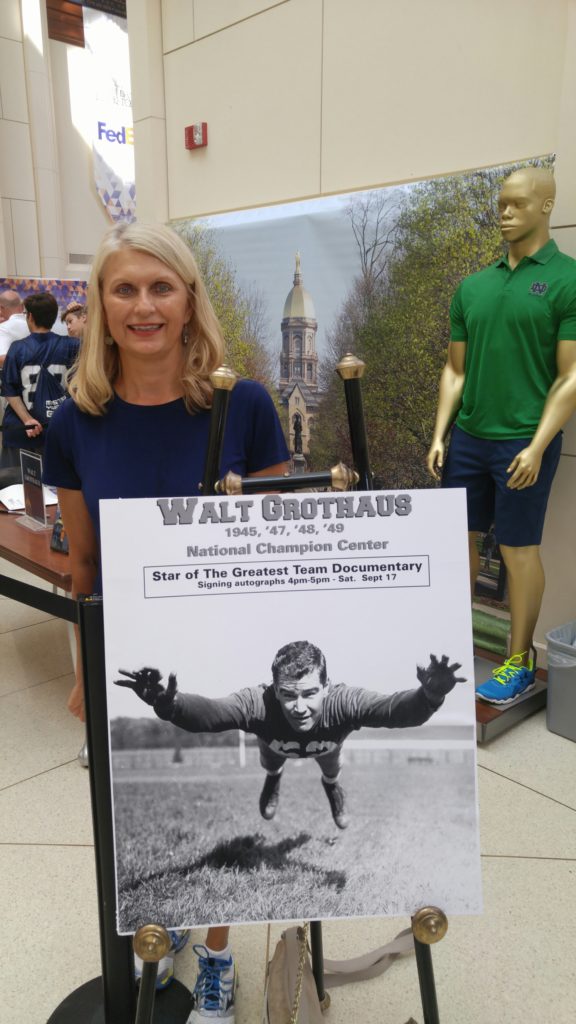 DiAnne  proclaims that the tailgate may begin!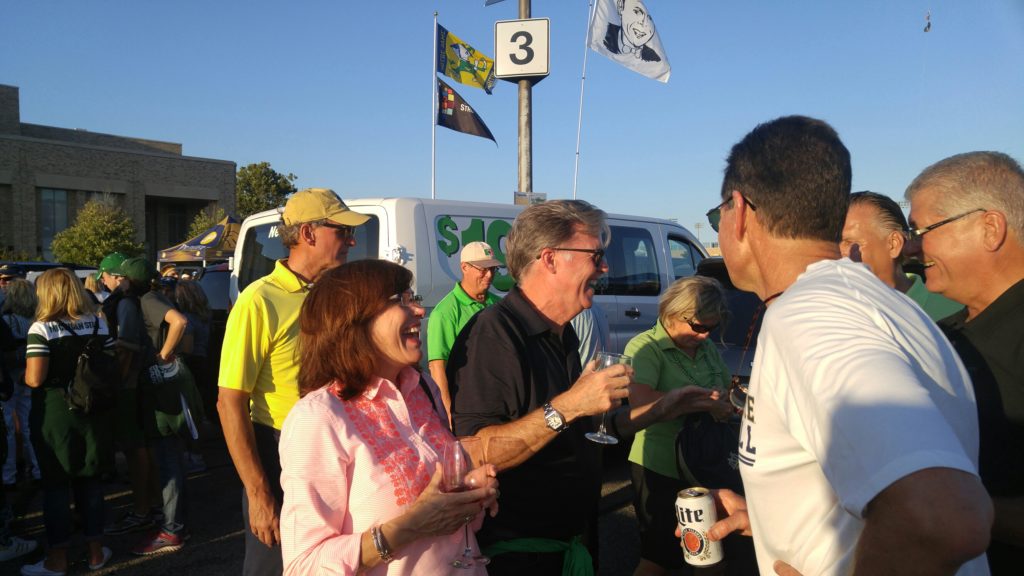 Happy to host our Sparty pals Jim and son Sean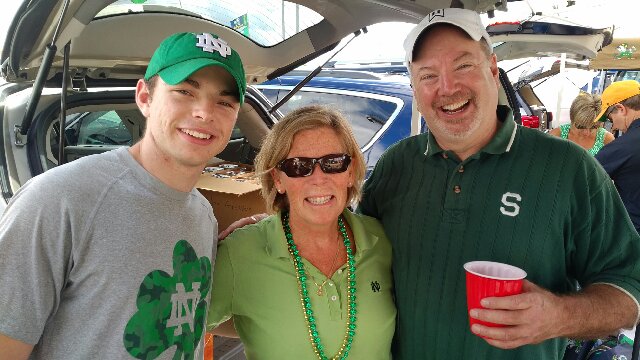 Gary crashing the bro-sis moment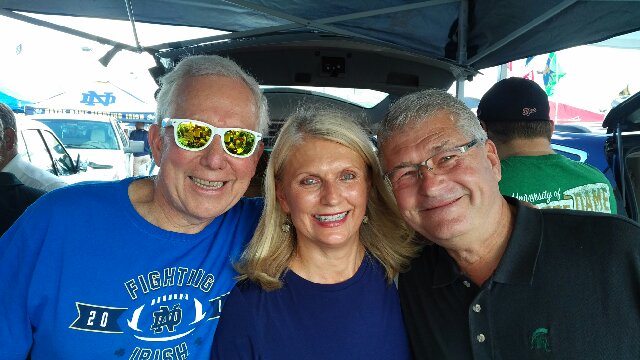 Great start to the game. Excellent Naval fly-over.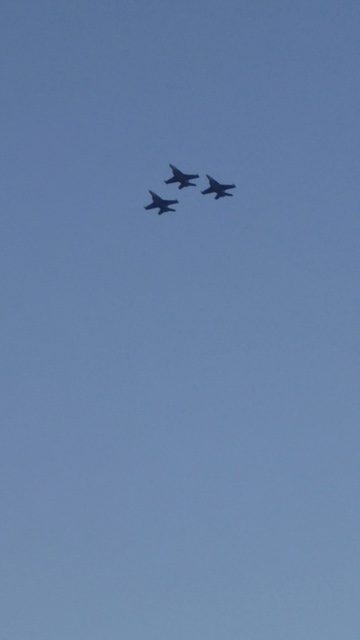 Best part of the entire game?
When the ND & MSU Marching bands combined to play "America the Beautiful". (No players sat or took a knee)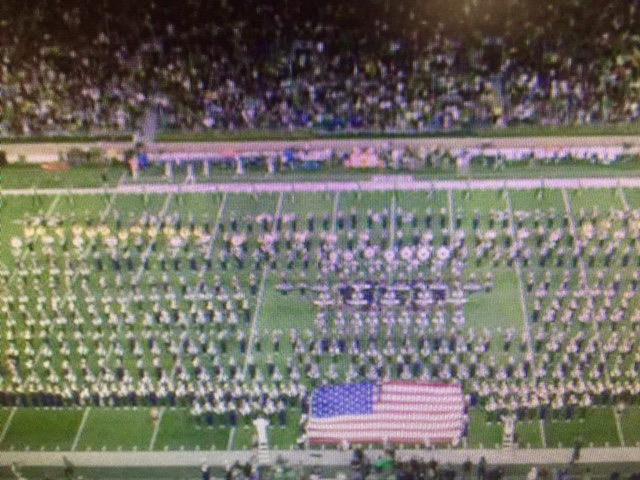 On Sunday, post-loss, 1000's of fans retreated to the Grotto. Many would have lit a candle for a better Defense.
Post-mortem…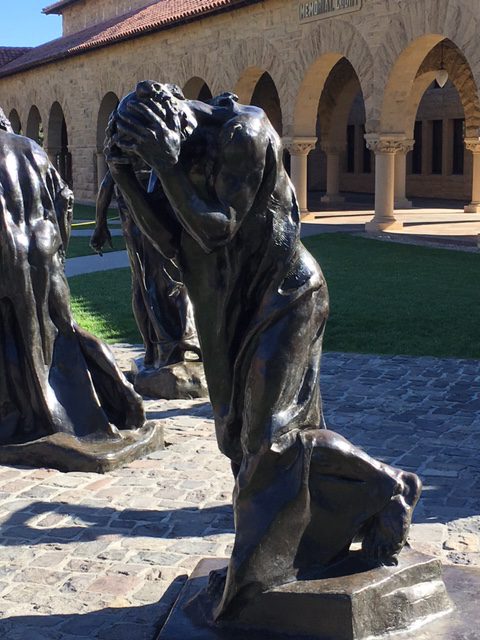 See you all for ND-Duke.
GO IRISH!