Guest Columnist, John Romanelli ('79)
We welcome back Guest Blogger and Notre Dame football expert John (Romo) Romanelli. A legendary interhall football QB for Sorin Hall, Romo is even better known and remembered as one of the early pioneers for  ND lacrosse in its infancy as a Club sport. A high school LAX star from Long Island, he dazzled his new ND classmates and friends from the Midwest and West who were largely unfamiliar with lacrosse. An avid college sports fan, we are fortunate for his contributions.
Romo in action. Known for quads of steel…hands of silk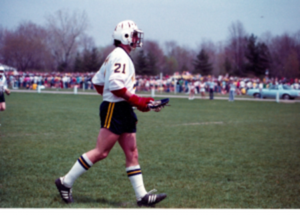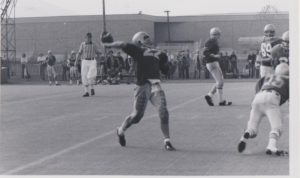 The 12th meeting of two truly storied programs, who have the 2nd and 3rd most wins in college football history.
There is something uniquely memorable about trilogies. Each of the Ali-Frazier fights, and the Godfather movies, would stand the test of time individually, yet, as a trilogy, the achieve iconic status.  Much of the same could apply to the trilogy of ND vs. Texas in the Cotton Bowl over an 8 year period in the 70s.  Texas at its absolute peak of historical excellence, facing off against two Ara-led teams and the best team of Coach Devine's era.
In 1970, ND's release from a 45 year self-imposed ban on bowl was a national story, and ND led most of the game until a late Texas TD secured a national championship for the Longhorns.  The next year would be very different, with ND's punishing and well schemed defense causing 9 fumbles (5 recovered), and securing revenge for the Irish.
Like Ali-Frazier, however, arguably the best match-up in the Cotton Bowl trilogy was the third.  The 1978 Cotton Bowl featured No. 1 Texas and No. 5 Notre Dame along with five national award winners: Heisman Trophy — Earl Campbell, Texas; Outland Trophy — Brad Shearer, Texas; Lombardi and Maxwell Award — Ross Browner, Notre Dame; Walter Camp Award — Ken MacAfee, Notre Dame.   Notre Dame dominated the game 38-10, and vaulted from 5th in the polls to a National Championship.
Currently, the two teams in are very different places, though similarities exist.   Texas is struggling to return to glory, with a 41-35 mark over the past 6 years.  Crushing losses last year (including the rout by ND) along with stunning upsets of Oklahoma and Baylor speaks of a program and a team that is young, inconsistent but talented.  The defense will likely be better than it was last year (a low bar to hurdle) especially in the secondary.   The prospect of the first freshman QB to start at Texas in 70 years speaks to the anemic passing offense – and imperfect game management – at QB last year.
A simple review of the NFL drafts of the past 20 years demonstrate that Coach Kelly's recruiting – and player development – have the Irish talent at levels last seen under Coach Holtz.  We suspect the offensive side of the ball – despite loss of seriously gifted players last year – will be excellent, if not elite.  If the play calling – which for the first 7 years under Kelly did its best to ignore the running game (is there an NCAA law requiring empty backfield in the Red Zone?), can exploit another talented OL.   Highly gifted QBs and RBs should lead an explosive Irish Offense.  No defensive coordinator can ever ignore the pass when facing a Kelly team, so, more so than in other years, there should be plenty of opportunities to run. We are encouraged by this week's quote "back to basics", and hopefully, the Irish increasingly use the run to set up the pass.
As seen by the season ending wins versus Oklahoma and Baylor, Charlie Strong's rebuild is gaining momentum. For the Irish, the D has to replace generationally gifted players like Smith and Day, and, the offense must replace – in a variety of places – the game (and momentum) changing production of Will Fuller.
On paper, ND's rushing game is matched against Texas' weakest unit – run defense, and Texas' questionable offense will still be a test for an ND defense with plenty to prove.
Irish prevail in a very close and highly-watched game, 23-20.