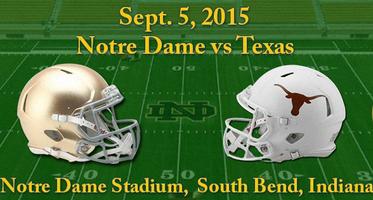 GAMEDAY
Notre Dame

vs.

Texas


Irish vs. Longhorns

Clearly, Notre Dame and Texas are not frequent opponents, but so many of the contests between the two great school have been memorable and historic with national impact.

The storied football programs rank 2nd and 3rd for all-time wins with 882 for ND and 881 for UT.

Generations of fans are super excited for Saturday's match-up, especially those who recall the epic games in the 70's.

After a 45-year absence in Bowl appearances, #8 ND traveled to the 1970 Cotton Bowl. With a late score, Texas prevailed 21-17.

The Irish came back to avenge this in the 1971 Cotton Bowl. The 1970 regular season Longhorns were unbeaten, ranked #1 and had a 30-game unbeaten streak… until the Irish took care of business in Dallas on New Year's Day.

Celebrating the 45th Reunion of another one of Ara Parseghian's great teams, over 70 former players and managers will be on campus this weekend.

There will also be plenty of nostalgia for the ND 1977 National Championship team that vaulted ahead of #1 Texas by beating the Longhorns in the 1978 Cotton Bowl. Led by Joe Montana and offensive weapons like Jerome Heavens and Ken McAfee, the Irish scored 38 points. A charged-up and stingy Defense led by Ross Browner, Luther Bradley and Bob Golic held the mighty Texas offense to just 10 points.
IRISH ITEMS
ND-Texas last played in 1996 in Austin. The Irish won 27-24 on a last-second FG by Jim Sanson.
ND has won 11 of its last 13 games in the month of September.
ND has played 11 Home night games and are 9-2 in those games.
Kick-off time is 7:30pm EST. This is the 25th anniversary of ND home games televised by NBC-TV.
Close-down the tailgaters in time to be in your seats for the pre-kickoff flyer by two U.S. Navy Goshawk aircraft.
Fr. Ted Hesburgh will also be honored in memoriam by the Band of Your Fighting Irish with a pre- game moment of silence.
       Fr. Ted, the closest we had to an American Pope…    He is missed, but not forgotten.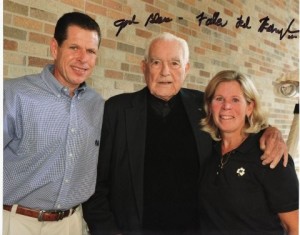 Fr. Ted's simple grave at Holy Cross Cemetery buried with his brother priests.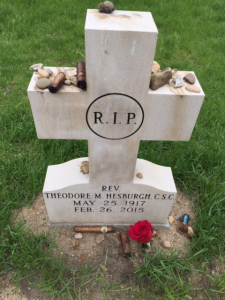 Enjoy the blog. If nothing else…it is different.
And either stick with it until the very end…or jump there now to the fantastic column "Random Musings–from the Cheap Seats". This offering from John (Romo) Romanelli ND '79 provides insight, analysis and stimulation that you have not read or heard from any other pundits or talking heads.
They say everything is big in Texas.
This game is plenty big in South Bend, too.
GO

IRISH

.


Hook those Horns!
GAMEDAY is about the game, of course.
And it is also about the PRE-GAME (and pre-gaming)
The "Tailgate Fairies" prepare days in advance of the home games. When family and friends arrive, the food and spirits are magically there.
                                   All stocked-up and ready last season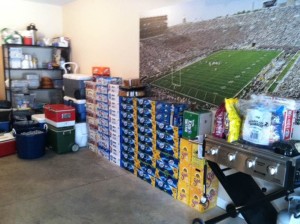 Shopping now and gearing-up for ND 2015 Tailgate season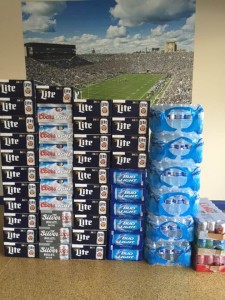 Let the Irish cheer begin!
A lonely Joyce Lot Lamp Post #3 mid-week with new Stadium construction in the background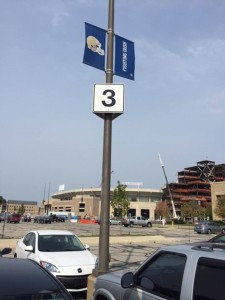 Quiet early Saturday morning set-up (last year; typical)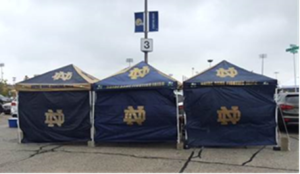 Pal Bruce Flowers brought a gift to a tailgater last year–a new addition to clearly identify our encampment.

This is supposed to be a caricature…not an actual rendering of Eddie Munster or anyone vaguely similar.
Dillon Hall represented here by legendary former Rector Fr. Joe Carey, Bruce Flowers, Bobby Cronin and George Scanlon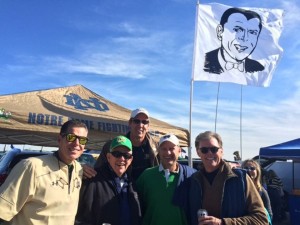 A typical tailgater in full-swing. Plenty of chow and cheer for all.

    "Mini Mo" (Maddie) with Mama Mo…2 very proud St. Mary's women 

IRISH and LONGHORN LORE
THE LEGENDS of LAYNE and LUJACK
QB Contemporaries
Texas Longhorn Great
#22 Bobby Layne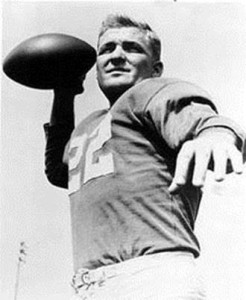 Bobby Layne was one of the greatest, if not the best, University of Texas QB ever. He made 4 straight All-Southwest Conference teams in 1944-47 and was a Consensus All-American. He also played 15 years in the NFL and has the distinction as one of the few players enshrined in both the College and NFL Halls of Fame.
Notably, in the 1946 Cotton Bowl Classic vs. Missouri, Texas prevailed 40-27…and Layne accounted for all 40 points as he scored 4 TD's, kicked 4 extra points and threw for 2 TD's.
As a pro with the Detroit Lions, Layne's pal was the larger-than-life Alex Karas. Of their nightlife together, Karas stated, "Bobby would rink 6 days a week and play football on Sundays."
Layne is notable for his famous quotation, "If I'd known I was gonna live this long, I'd have taken better care of myself."  This line was later used by baseball legend Mickey Mantle, a Dallas neighbor and good friend of Layne's.
The Notre Dame link to Layne of course is Irish great Johnny Lujack.
While Bobby Layne was an All-American and finished 6th in the Heisman voting in 1946, Notre Dame's Lujack WON the Heisman Trophy.
And while Layne was drafted by the Chicago Bears, he was stuck as 3rd -stringer and eventually traded.  Layne could not beat out Johnny Lujack while on the Bears .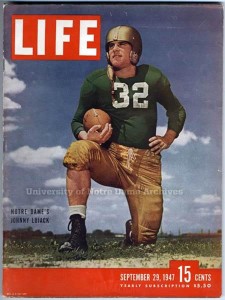 Former Head Usher at Notre Dame Stadium and legendary historian Cappy Gagnon has vivid memories for Johnny Lujack's athletic prowess and greatness at Notre Dame. He writes:
"All discussions about Notre Dame's GREATEST football player (while at ND) begin AND end with one name: John Lujack.
Old-timers select him as our greatest defensive back. The year Angelo Bertelli won the Heisman (1943), Lujack replaced him at QB with four games to play, when Angelo went off to serve in the Navy.  Lujack actually had better stats that the Springfield Rifle for that season.  Besides being a two-way star, John also kicked and punted.
During this frosh year, besides being at the helm while the Irish won the National Championship, Lujack also was the starting right fielder on the baseball team and a starting guard on the basketball team.  Just for good measure, he also picked up a monogram in a FOURTH sport as the story below relates:
Scholastic Headline:  Lujack — Busy Man
Johnny Lujack was a busy man last Saturday. He was playing right field for the Notre Dame baseball team in its encounter with Western Michigan. After the Broncos were retired in the top of the fifth inning, Johnny jogged over, picked up the javelin and tossed it 162 feet to win the event. Returning to the diamond, he blasted a prodigious triple over the left-fielder's head. In the bottom of the seventh inning, he competed again for the Handymen. Still in his baseball uniform, he cleared 5′ 11″ in the high jump twice but his loose fitting baseball togs dislodged the bar*. Johnny called it a day a few minutes later by slapping out a clean single for his third base hit of the afternoon.  *He didn't place, but 5'11 would have won!!
Javelin throw—Won by Lujack (ND) ; Kondratovich (ND), second; Quasey (ND), third.  Distance, 162 feet
John was the third ND man to earn four Monograms in a single year.  The first two, Alfred Dutch Bergman and Rupe Mills, did it in 1914.  Both later played Major League Baseball.  The only other ND man to accomplish this feat was George Ratterman, who Frank Leahy called the greatest athlete he ever coached.  How good must he have been!  Ratterman was Lujack's back-up in 1946.
Ratterman also played a bit of baseball.  He was a two-year starter on the basketball team, once being the second leading scorer.  On the tennis team, for three years he alternated in the top two positions with one of the Evert brothers, dad and uncle of Chrissie.  Ratterman was one of the top QB's in the country for a long time, but had the misfortune of playing behind Lujack and Otto Graham.
Lujack's NFL career, with the Bears, was cut short by injuries, but his record indicates he would have been a Hall of Famer, the same honor he earned for his collegiate career.  During his first year (1948), despite playing in only nine of 12 games, he had eight interceptions as a defensive back.  He made 44 or 46 extra points, in an era where that kick was not as automatic as today.  In 1949, he led all Quarterbacks in Attempts, Completions, and Touchdowns (23).  For good measure, he was 42-44 in extra points, made his only field goal attempt, and…….oh by the way…..punted for a 41 yard average on three kicks.  His passing stats fell off in 1950, but he led the NFL in rushing TD's, with 11.  His career yards per carry average was 5.6.
John turned 90, earlier this year.  He is the oldest living Heisman Trophy winner.  FYI, ND's Johnny Lattner is #2.  Paul Hornung is #4.  (Howard "Hopalong" Cassady, of Ohio State, is #3 in seniority).
A final note about Lujack………..during the final sixteen years before I retired, I was one of the hosts of the visiting football teams when they came in to the Stadium for their Friday afternoon walk-through.  One year, when Florida State came to play, I greeted Bobby Bowden.
As I welcomed him, his first words were that he became an ND fan in the late 40's and Johnny Lujack was his favorite player.  Bowden recited Lujack's most famous play at Notre Dame……….when he tackled 1945 Heisman Trophy Winner Doc Blanchard, saving a touchdown and preserving a 0-0 tie and Notre Dame's 1946 National Championship.
Go Irish!"
Cappy Gagnon
GREEN with PRIDE
For those of us from a certain era, the 1970's was a great decade for Notre Dame football.
The heart of it was the Dan Devine stewardship from 1975-1980. Often over-looked as an ND coaching great probably because of his relatively short tenure (at that time), Devine coached six season at ND from 1975-1980.
Devine came to Notre Dame after a lackluster career in the NFL as the Head Coach of the Green Bay Packers. He may be best known for having his leg broken on the sidelines as a NY Giant player exploded into him. Or infamously, Devine was also the victim of  irate Packer fans shot the Devine family dog dead on their front lawn after another Packer's loss.
Devine's daughter Sarah was an ND '79 classmate. She was very nice. Doubtful that anyone ever asked her about her dog.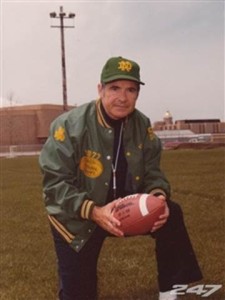 In his six years, Devine's teams were 53-16-1. The Irish appeared in 4 Bowl games winning 3 of those—three Cotton Bowl titles and a Sugar Bowl loss in 1980 to future Heisman Trophy winner Hershel Walker and his Georgia Bulldogs. In that Sugar Bowl match-up, #1 Georgia held-off ND 17-10. They were powered by the freshman sensation with 25 carries and 205 yards rushing.
The most magical and memorable season had to be 1977 and the National Championship. This featured the "Green Machine" jerseys vs. USC and of course—the 1978 Cotton Bowl classic matching #1 Texas vs. #5 Notre Dame.
If this clip does not bring back memories and chills, you have no pulse.
http://125.nd.edu/moments/were-1-1978-cotton-bowl-classic/
And of course, let's take a look at the player intro's…leading off this clip with our great pals Ernie Hughes (RG #65) and Teddy Horansky (LG #66), and our dear departed pal Dave Huffman (C #56).
https://www.youtube.com/watch?v=pCOFsZQr-QU
It was an exciting time to be a student at ND and and Irish fan. Despite an early season loss at Mississippi, the Irish ran to a 10-1 regular season record and a #5 ranking.
This had included the incredible "Green Jerseys" game when ND absolutely clobbered the Trojans on a beautifully sun-kissed day in the original and iconic ND Stadium (built by Rockne) with real grass, 59,084 seats, no lights, a modest pressbox and no video boards.
This stunning 49-10 beat-down truly established ND's dominance and later–the right to play undefeated and #1 Texas in the 1978 Cotton Bowl ('77 season).
It was a very memorable game for the best QB-Center tandem in college football that year–Joe Montana and Dave Huffman.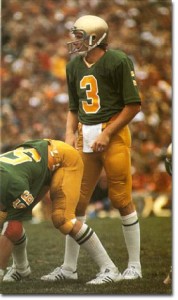 Longhorn Coach Fred Akers, as well as the pundits and loyal Texas fans sure sounded confident… And why not with such a talent-laden team?
Just a few problems however, including:
* Heisman Trophy winner Earl Campbell being totally shut down by a stifling ND defense led by stalwarts Bob Golic, Mike Calhoun, Ross Browner, Luther Bradley, Jeff Weston… to name a few.
          Luther Bradley–still fit as ever.  Looks like he           could still play!
* Outland Trophy winner Brad Shearer being manhandled at the line of scrimmage all day by the Wall of Three–Ernie Hughes, Dave Huffman and Teddy Horanky.
          Ernie "Big Red" Hughes at 2014 Louisville game.
         Still red..still big.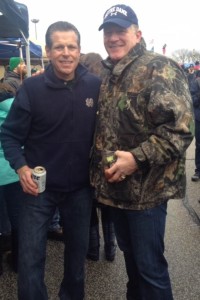 * Overthrown Texas passes; missed tackles; and out-hustled and out-manned by the lads from South Bend.
The Irish thumped the Longhorns 38-10. And as improbable as it may be today, ND was proclaimed the '77 National Champions–it's 2nd championship in the 70's (and oh so closely–there could have been more).
As ND fans in Dallas, it was utter pandemonium in the official ND hotel when the announcement was made.
We knew we had witnessed and experienced greatness and history.
The victory in Dallas was particularly sweet for Dallas native and Thomas Jefferson H.S. grad Dave Huffman and his brother Tim "Tiny" Huffman.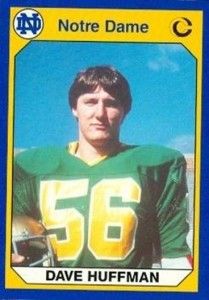 Always the biggest guy in the group…and always with the heartiest laugh, Dave Huffman was a Consensus 1st Team All-American and remains on the ballot for consideration for the College Football Hall of Fame.
Few ND fans thought it would take 11 more years to claim the National Championship in 1988.
Just off-topic for a moment…without Tony Rice in 1988–there would be no National Championship. Look up his stats. What a season. Dillon Hall is very proud of Tony.
Great memories of Texas in 1978.     Thank you!
LONGHORN TIES to NOTRE DAME
Texas Coach Charlie Strong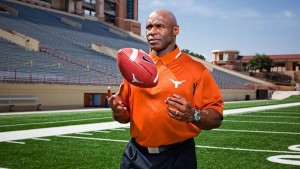 Charlie Strong begins his second season at the University of Texas with a freshman recruiting class ranked among the Top 10 by several sources. He is still back-filling the team he inherited from former Head Coach Mack Brown after Strong dismissed a number of players for disciplinary reasons during his first pre-season camp. At that camp, he also had the players begin with blank white helmet stating that they had to "earn the right to wear the Longhorn logo".
In his inaugural season, Strong was 6-7. This was a change from the previous two season as the HC at Louisville where his teams were ranked in the final polls at #15 and #13, respectively. In four season at Louisville, Strong was 37-15.
A rising star in college coaching circles, Strong has been a known commodity to Notre Dame.
And Strong knows Notre Dame
ND Stadium will be familiar to Strong, although he will be across the way on the opposing sidelines this Saturday.
From 1995-1998, Strong was the Defensive Line Coach for Lou Holtz at ND. When Lou departed for South Carolina, he immediately plucked Strong as his Defensive Coordinator, where he worked from 1999-2002.
Strong's strong work at (the other) USC led to a strong job offer by Florida's Urban Meyer to join his strong Gator staff. Strong coached at Florida from 2003-2009. This included his stint as interim Head Coach in 2004.
While in South Bend, diners recall him enjoying the best pizza in town at Rocco's.
Another big Rocco's fan is the former great Northwestern University receiver Tim Rooney (center), now a very prominent attorney in Chicago. Owners Warren (right) and Linda are proud of their great family business and their pizza, reputation and great clientele.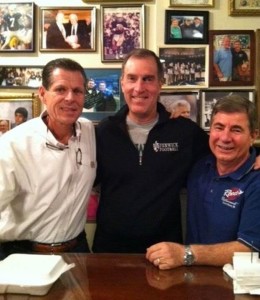 Texas' mascot Bevo can't attend team's opener against Notre Dame
When Texas takes the field this Saturday in South Bend against Notre Dame, there will be plenty of Longhorn fans in attendance — just not the biggest one.
Due to a "no live mascot" policy at Notre Dame Stadium, Bevo XIV will not be able to attend the game. Bevo, a 2,000-pound Longhorn, is stationed on the field for each of Texas' home games and usually travels for the team's road contests.
The Notre Dame athletic department that Texas has been informed Bevo will not be allowed to be on the field.
There have been many changes to Notre Dame Stadium, with more currently under construction. The new Field Turf surface vs. natural grass may have been a factor for the "No Bevo" zone. Just imagine the "clean-up on Aisle 9" if Bevo had a movement.
ND Stadium on Wednesday evening. Cleaning and clearing construction for the Home Opener.
Notre Dame's rules do permit Texas' costumed mascot, Hook 'Em, to be in attendance. Also, if Texas chose to send it, the school's "Show Band of the Southwest" can attend.
WHERE IS DR. LOU?…
There is no more ESPN College Game Day for the legendary Notre Dame coach. He has retired.
 And within minutes, ESPN dropped "one-trick pony" naysayer Mark May.
Proof and validation that Lou made May… and May is nothing without Coach Holtz.
      Moronic May loses another bet to Coach Holtz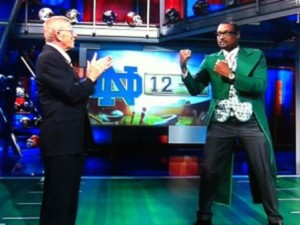 With Saturdays free, Lou might usually be playing golf in Lake Nona, Florida. Though he is probably in temporary quarters after his house was struck by lightning in June.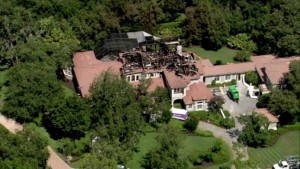 So  Lou…why not head back to South Bend, Indiana this Saturday?
You could get your haircut by your favorite barber—the legendary Armando…
Saturday morning Game Day…Quick haircut to look great on TV… Thanks Armando!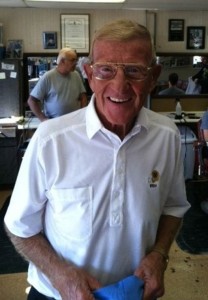 Or, Lou might be venturing over to the greatest men's dorm at Notre Dame—Dillon Hall
And why is Lou headed to Dillon Hall… historically, traditionally and factually the greatest and most revered dorm at Notre Dame?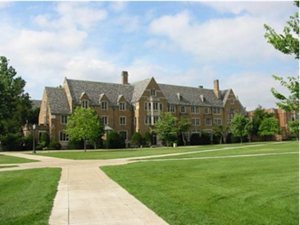 To visit his grandson. The son of ND grad and college coach Skip Holtz, is a freshman in Dillon this year.
But in fairness, Lou will need to seek out the Texas team, too.
Why, you ask?
Because grandson Trey is a QB on the Texas team (betcha didn't know that…)
 TREY HOLTZ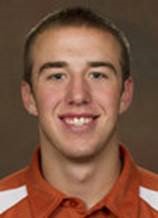 #15 Trey Holtz  QB  6-0  186 Junior

Tampa, Fla.  H.B. Plant

 

A fourth-year quarterback … three-time member of the Big 12 Commissioner's Honor Roll … a two-year letterman at H.B. Plant High School.

SOPHOMORE (2014)
Did not see game action.

REDSHIRT FRESHMAN (2013)
Did not see game action.

FRESHMAN (2012)
Redshirted.

HIGH SCHOOL
Coached by Robert Weiner at H.B. Plant High School … helped Panthers win Florida State Championship his senior year … lettered as a junior and senior … served as a reserve quarterback … was primarily the team's holder and rugby-style punter during its championship season … also participated in lacrosse.

PERSONAL
Born in South Bend, Ind. … also lived in Columbia, S.C., Hartfield, Conn., and Greenville, N.C. … full name is Louis Leo Holtz III, but goes by Trey … parents are Skip and Jennifer Holtz … has a brother, Chad and a sister, Hailey … father is the current head coach at Louisiana Tech and former head coach at USF (2010-12)  who played wide receiver at Notre Dame … grandfather is Lou Holtz, retired college football coach and now an analyst for ESPN … served as a counselor at Muscular Dystrophy Camp … volunteered on three mission trips … enjoys water sports and boating … majoring in physical culture and sports with a minor in business … three-time member of the Big 12 Commissioner's Honor Roll (spring 2013; fall 2013; spring 2014).
So while I could be wrong… Abe predicts that Lou Holtz will be on campus this weekend.
 Armando's could be the place again…as so many times for coaches, players, alums, students and fans.
                 The greatest living ND coach…Ara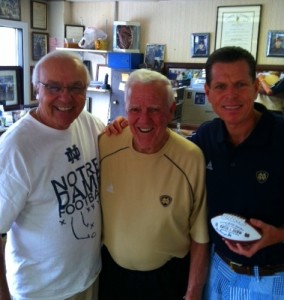 Guess who needs a National Championship and a statue at the Stadium… we are with you 100% BK!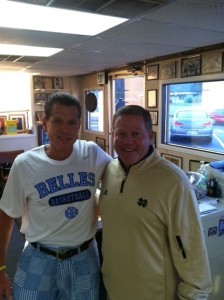 ND's last Final Four basketball coach and still its winningest coach… there is only one Digger
The Star to the Stars…in business for over 45 years… ARMANDO !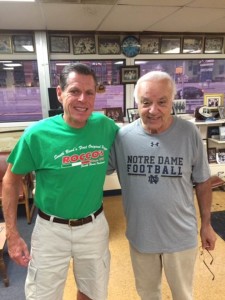 We will miss you on College Football Saturdays, Lou. You were the best.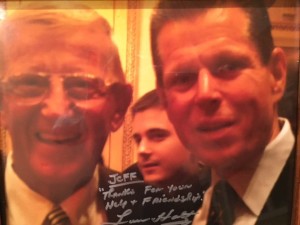 NOSTALGIA CORNER…
Guest contributor:
Tyrone Robinson ND '73 (#89)
Product of Olney High School in Philadelphia
Recruited for Defense by Joe Yonto
Sophomore on the ND 1970 team; 1971 Cotton Bowl
Tyrone Robinson (right) with ND teammate and All-American Tom Gatewood at a recent reunion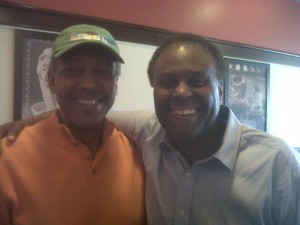 "Thanks for asking…
Here are my thought about our 24 – 11 victory over Texas in the 1971 Cotton Bowl. I was soph defensive end.
Texas was ranked # 1 with a 30-game unbeaten streak and the defending national champs. Included in that 30 game unbeaten streak was the prior year's 21 – 17 win over us in the Cotton Bowl. Going into the game Texas was very confident. It was basically a home game for them, they had the win streak and they were ranked # 1 again. They thought they were poised to win back to-back championships.
We had limited experience defending the wishbone. Only teams in the South and Southwest ran this style of offense. However, Ara changed his approach. On offense, it was to go all out and get a working lead and make Texas more likely to throw. On defense, I think we called it a "mirror" approach. It's now referred to as "assignment football." The game was really over by halftime as we put up 24 points stunning the crowd in Texas.
That year we should have won the national championship, but lost to USC our last regular season game.
I also recall the swag we received from the game… an original Texas cowboy hat, gold plated cuff links and a Rolex watch. I still have all of them today with my great memories of teammates, managers and coaches.
It will be a thrill to be reunited with everyone again this weekend to celebrate a truly great team.
Tyrone Robinson with ND pals at 1972 Orange Bowl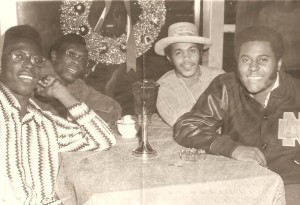 TR
COLUMNIST CORNER
Get your "X's and O's" and top-flight analysis right here.
Many people prefer to  read our blog www.Shakedownthethunder.net from last-to first, from bottom-to-top.
Why might they do that?
Obviously because of our exclusive premier Columnist, of course.
In our midst is a college football expert with particular insight for Notre Dame.
We begin this new season with the return week with John (Romo) Romanelli. A 1979 graduate, Sorin Hall legend, and an unforgettable elite Club lacrosse and interhall football player.
While slightly unscientific, with his contributions to this ND blog site, the traffic and comments have risen exponentially in tandem with Romo's commentaries and analyses.
Quads of steel…hands of silk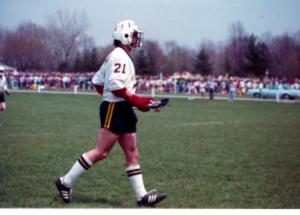 RANDOM MUSINGS – From the Cheap Seats;
YFI, the 2015 Season    

            
September 3, 2015
One of the truly great things about the start of any new season is "hope springs eternal". Regular fans – let alone devoted, passionate fans – instinctively believe that, magically, all of the strengths of the prior year's team will continue into the New Year, and, of course, the weaknesses will have been addressed via recruiting/spring practice, etc…
More so than most years in memory, last year's season provides ample evidence for both the optimists, and, pessimists, of the ND program. The 2014 Irish were maddeningly frustrating to watch – An Offense which was: 14th in First Down Yardage, 16th in 3rd Down Conversion, 30th in Passing Efficiency, and, yet, disappointed fairly consistently.  Red Zone Efficiency (80th in NCAA) again proved to be the Achilles Heel of the Irish.  Overall, the team was the 13th least penalized, yet, was only 82nd in Turnover Margin, those two variables essentially netting out.  The post FSU swoon, culminating in shake my head performances (both the hang on to the finish wins versus weaker opponents, or the losses), was hard to fathom.  . Injuries didn't help, but, giving up 215 points in the final 5 regular season games points speaks to other issues.
As Coach Kelly starts his sixth year, with a new OC – (run first reputation!) – It's a fascinating year for the program. Returning starters, strong recruits, and yet, with it, comes nagging unease amongst most Irish faithful. The elevation of expectations during the magical 2012 season has led to a more sober, and somewhat somber, fan base after the 2013 and 2014 campaigns.  What once seemed to be program trajectory – "we're back", has many feeling that 2012 was a magical, and aberrant, campaign, rather than the norm we should expect (and, for most over 40, grew up with).
Of the 12 opponents, 3 (GT, Clemson, Navy) have had coaches in place longer than Coach Kelly. Six of the 12 opponents have coaches hired in 2014 or 2015.  It is not unreasonable to view this as a very important year for Coach Kelly's reputation.
He has churned through a roster of elite QB recruits, and, given his QB-centrism offensively, there can be escaping that in this, his sixth year, with 2 highly recruited QBs transferred away, he has 'made his own bed' on this issue. To me, this is the greatest back story of this year:  the most QB-centric coach in ND history – enters his sixth year with a rookie QB, while two highly touted QBs are playing at other schools.
The Schedule one of the more interesting ones in years, with traditional rivals replaced.  Based on Sagarin ratings, Irish have 4 highly rated opponents, 3 in the Top 15 (Clemson, USC, and Stanford).  There are also 4 ranked 75 – 147th! (Temple, Navy, Wake, U Mass), Mass arguably the 'weakest' school scheduled by ND in memory.   Texas, Pitt, U Va, and BC are all ranked between 26th and 62nd and Sagarin has YFI at 21st.
Even in recognition of the increased parity in the sport, the Irish should dominate the weak four.  For the middle 4, Irish should go 4-0, but, obviously, upsets are possible, and, in the past decade, Irish invariably have lost one of these 'should win' games. Irish tend to play down to PITT and, BC away, and with Charlie Strong at the helm, Texas will return to excellence, hopefully not this year.  Our hearts will call it 4-0 for this bucket, but, 3-1 is likely
As to the strongest 4, believe ND prevails over Georgia Tech.  Clemson away will be a huge challenge.  Stanford – what has been my favorite game on the schedule for years – away is an absolute toss-up. Note: if the two schools were to announce extended schedule for 50 years, fine by me.  USC – whose alums are as frustrated as ND fans for the performance of the past decade – is a very odd team.  Remarkably inefficient on Offense last year, laden with star talent, and probably deeper than YFI.   Last year snatched defeat from the jaws of victory more than any team I've seen.  The Post-Pete Carroll years have been hard on the program, but their inability to close out games last year was very troubling.  Until season underway, wont' make prediction amongst these three, but, at face value, would be disappointed to go 1- 3, suspect ND goes 2-2 or, perhaps, 3-1.
Defensively, key will  be LB Unit. Despite great individual play of   Smith and Schmidt at LB, the LB unit last year seemed at times, overmatched, putting enormous pressure on balance of defense.  Watching the play of the LB unit, rather than the likely elite highlight reel from Smith, will be key to the defense.
ND has been blessed with variety of elite level LBs (Smith, Monti, etc) in recent past, but, overall unit has undermined superior play from backs, and, for most campaigns under Kelly, the D Line.
QB Play is everything in a BK offense.  Team's fortunes riding a lot on two major questions: can MZ in his first full year perform, and/or, will BK change his offensive strategy enough (as he did vs. LSU) to go run-first.  Realistically, you'd have to assume MZ will struggle at times in his first full sea son, and, second, BK unlikely to change his stripes philosophically.
Red Zone: Achilles Heel of the program under BK; simply impossible to overcome sub-par to actually quite poor performance here.   Believe it's a function of pass-happy play calling, but, regardless of reason, YFI must have improvement here to improve from the 8-4 mark they've averaged under BK.Turnover and Penalties: I view these as combined metrics.  Last year, Irish were bad in turnovers, excellent in penalties.  In 2012 NC run, they were great in both. Appalling Red Zone play, and turnovers, and defensive units with Achilles Heels, have hurt too many of BK's campaigns.
Season
Lots of hope in air.  Schedule very reasonable relative to history, BK's quoted as saying most talented team he's had and, highest pre season ranking by AP in 9 years.  First time starter in QB-centric system will have rough patches;  Likely to underwhelm in the Red Zone; and, Defense which will at times, be overmatched are all reasons I suspect a season of great highs, and, disheartening lows.
If Irish can tamper self destructive tendencies on offense, 11-1 is possible, 10-2 probable.   If Irish Red Zone deficiencies and turnovers continue, 8-4 – or even 7-5: highly probable.
Texas at ND:
Still vaguely recall sitting before a non-HD, non-flat screen watching the '70 and '71 Cotton Bowl, both classic games between elite programs and coaches at the top of their profession.  The turnaround at Texas under Charlie Strong is well underway, but they are still year(s) away from being able to field a Top 25 Team.  Prayers answered here: ND uses run first, pass second philosophy from LSU game, and, superior talent and discipline leads to comfortable season opener:  ND 40, Texas 24.
THERE YOU HAVE IT FRIENDS AND FANS..

.

The 2015 season opening blog for "shakedownthethunder.net"

We strive to be accurate and everything is truthful (in our eyes and memories).

We are just having fun and cheering on our team.
GO

IRISH!
Abe